Patrick Grant – A Sequence of Waves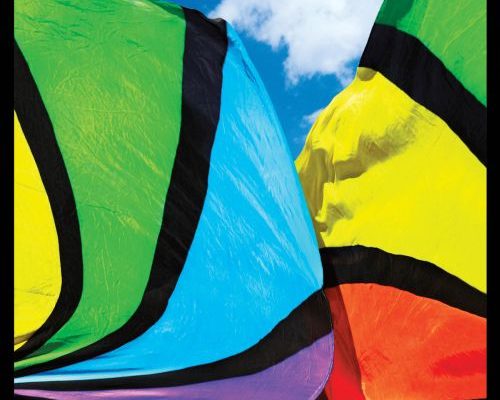 Renowned and multi-talented New York City-living musician Patrick Grant recently released his latest body of work, the album A Sequence of Waves (twelve stories and a dream).  The composer/performer's LP follows up last year's critically acclaimed album Tilted Axes: Music for Mobile Electric Guitars.
Grant is a pioneer, inventor, and sound-crafter in the musical realm, weaving unexpected and intriguing sonic tapestries from American roots music, classical, electronic, progressive rock, world music, and more.  His journey has been rich and eventful, from performing in The Orchestra of Crafty Guitarists which was led by King Crimson's Robert Fripp to his inclusion in a 2013 Guinness World Record-breaking performance of 175 electronic keyboards in NYC and being the creator of International Strange Music Day (August 24th).
For over three decades, Grant has composed and recorded as a solo and collaborative musician, as well as for theater and film.  The artist has performed throughout the world and all the while his style has evolved from his post-punk and classical beginnings to traditional Balinese music and ambient/electronic soundscapes.
An assortment of quickly pulled, at-odds classical strings on Lucid Intervals opens the album.  The plunging and rising strings are gradually augmented by tick-tocking chimes, shaken metal reverberation, and hand drums.
Next number Driving Patterns roams with vivid streaks of electric guitar, rapid piano notes, peppy percussion, and a fast, but subdued drum beat.  It's the sound of weaving deftly through a traffic jam.
Prelude I brings in rock-oriented guitars as shifting guitar lines purposefully wander for a while until broken by a brief lull.  The guitars pick up again, this time with shaken percussion and tambourine rattle.  Kicky drums complete the rock set-up.
Seven Years at Sea drifts along on a slightly see-sawing instrumental current and a field recording of ghostly echoed and looped vocals from the Hoffpauir sisters (Elita, Mary, and Ella), which was recorded in Louisiana in 1934.  The girls' airy voices are a haunting reminder of time gone by, but Grant frames it in the modern context by inflaming their delivery with a passionate, searing guitar line.
Grant continues to push the rock edge with the prog-rock guitar progressions of Breaking Butterflies Upon A Wheel.  The guitars keep spinning at a frantic pace, even when a touch of strings and glistening notes are introduced to the mix.
Prelude II finds steely guitar strings at the fore, winding and then driving along the otherwise empty road.  On the ironically (or maybe straightforwardly) titled and restless To Find a Form That Accommodates the Mess, Grant throws in the instrumental kitchen sink, revisiting forms, motifs, and themes that are sprinkled throughout A Sequence of Waves.
If you enjoyed a sneak preview of A Sequence of Waves, check out the official website for Patrick Grant by clicking here. Give him a like on Facebook by clicking here. Lastly pick up A Sequence of Waves on Bandcamp by clicking here.