Project Grand Slam – The Queen's Carnival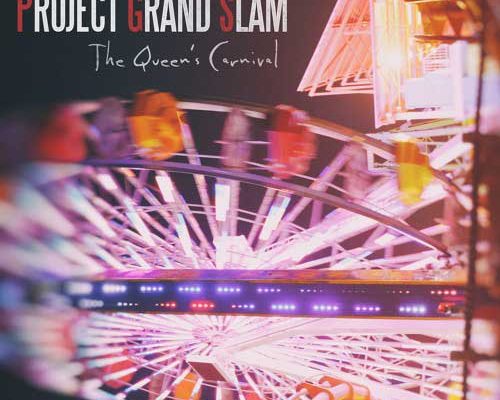 Robert Miller heeded his icon's musical lessons well. There is a dizzying array of musical moves on auditory display for listeners with Project Grand Slam's latest release The Queen's Carnival.
A masterful bassist and composer, Miller certainly leads the way at many points during The Queen's Carnival, but he's equally content and continually focused on providing the eleven song collection with a solid backbone. The surrounding players are equally fluent practitioners of their art and invest the songs with equal parts command of the material and the necessary invention to put a distinctive stamp on the songs.
Project Grand Slam, despite their extensive musical pedigrees, never fails at writing and performing accessible music. This might have an outstanding skill level outstripping the talents of many contemporaries, but it never goes anyone's head.
Melody is a big reason for that. Even on their audacious cover of the classic Kinks rocker You Really Got Me, Project Grand Slam has clearly chosen a song with those virtues in abundance and underscores them with daring and imagination. Only signature parts of the track bear any meaningful similarity to The Kinks original, but when those moments come, Project Grand Slam captures every ounce of the rambunctious spirit powering the original. Lucy Woodward's vocal never overreaches and dramatically complements the arrangement.
The album's title song is a robust Latin-spiced offering with an energetic tempo and fully bodied, diverse performance from the band. Though the band typically shuns vocalists in favor of instrumental material, Project Grand Slam aren't some nebulously minded jam band, but instead construct tightly integrated material meant to be executed with one part precision, another part passion.
The same dynamic informs the fusion influenced rock poses rolled out in the song Gorilla. Giving lie to its heavy handed title, Project Grand Slam balances light and shade with extraordinary ease and ends up with one of the album's best all-around songs.
The streak continues with the large-screen musical treatment they give to New Folk Song, a self-conscious but never pretentious attempt to fulfill the promise of its title. There are a number of climatic moments scattered through the arrangements and everything hangs together with a sharply organic feel.
Project Grand Slam toys with much more expansive textures on It's The Beat, eschewing their typically tight focus on melody in favor of a more painterly approach towards composition. This is a song that, ultimately, is much more the sum of its parts than earlier efforts. The instruments pile on effects until a larger sonic picture emerges and, as always with this artistic unit, it is a rich and rewarding musical tapestry.
The finale Lullaby For Julesy is a gently lilting melody that brings a relatively raucous album to a peaceful close. It has a distinctly affectionate and warm edge while never overstaying its welcome. The preceding sentence is an excellent way to describe the band's work here as a whole. They often come on with rough and tumble attitude, but it's never enough to overly coarsen an affectionate and warm presentation. The Queen's Carnival is one of the year's best efforts.
9 out of 10 stars
[soundcloud url="https://soundcloud.com/adampnyc/the-queens-carnival" params="" width=" 100%" height="166″ iframe="true"/]
If you enjoyed a sample from Project Grand Slam's album The Queen's Carnival, give them a like on Facebook by clicking here & a follow on Twitter by clicking here.