Rhett May – Creatures Of The Night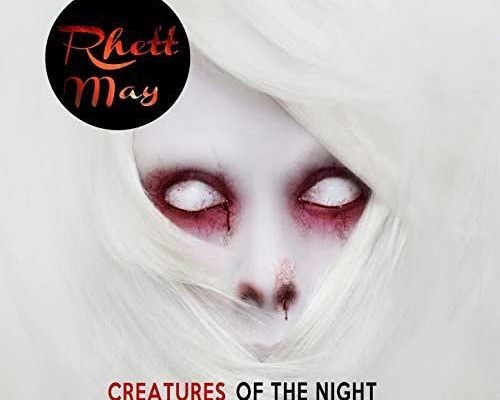 The imagination and fire powering Rhett May's latest thirteen song opus, Creatures Of The Night, is testament to abiding passions and following your own path. May's long career in the music business has likely flown under the radar of many, especially in light of his prolonged absence from the arena, but once that fire is lit inside someone, very little can squelch it.
Rhett May proves that's true on every song. Creatures Of The Night is, at heart, a rock and roll album, but May's musical creativity is never so narrowly defined that he pursues those ends alone. There's a tremendous wealth of risk taking and melody pulsing through the songwriting on this release and his surprisingly vital, youthful vocals are well served by great musicianship and his obvious attentiveness. Creatures Of The Night is a fantastic album from beginning to end, devoid of filler, and deserves as wide of a hearing as possible.
The rock and roll heart of the album beats loudly in the opening song. Somebody's Watching You is the first of numerous songs on Creatures Of The Night that play like hard-nosed character studies, but a close listen to the lyric reveals just as much about May himself as it does his subject. The guitar work is particularly strong and guaranteed to grab listeners in a vise.
He changes things up with the album's second song Back Seat of My Chevy and the mix of electric and acoustic guitars gives it pleasing density while the songwriting, once again, pays tribute to his skills at invoking a certain time and place. Moreover, it shows May's ability to invoke elements of classic American rock and roll while still putting his own stamp on the song.
The title song, Creatures Of The Night, is perhaps the darkest moment on the album but it never arrives at its result via shortcuts or cheap chicanery. He has an excellent sense of how to build performances and this is one of those moments when things come together in a memorable fashion above and beyond what his contemporaries are capable of.
Latex Lady has a strong march tempo and some powerful guitar work, but the center of the track is May's visceral singing and his ability to realize the vocal melody's potential. It's an excellent choice for the album's first single and has a decidedly adult side in line with much of the songwriting. May has a mild taste for the dark and seedy, but it never crosses a line into cheap titillation.
Kiss Your Mama With That Mouth develops slowly and has a darker hue, akin to the title track, but the guitars are arrayed in a much different fashion and have a surprising amount of sensitivity. It reaches some impressive heights thanks to the guitar, but May's emotionally wrenching singing is the highlight. There's even some hints of pure pop orchestration coming through.
The album's finale, When We Make Love, will surprise many with its blues and jazz leanings. It's a final reminder that May is an artist who takes chances, but never recklessly, and makes them pay off for himself and his audience alike.
9 out of 10 stars
If you enjoyed a preview from Rhett May's Creatures Of The Night, check out his official website by clicking here, give him a like on Facebook by clicking here & a follow on Twitter by clicking here.