Robert LaRoche – Forevermore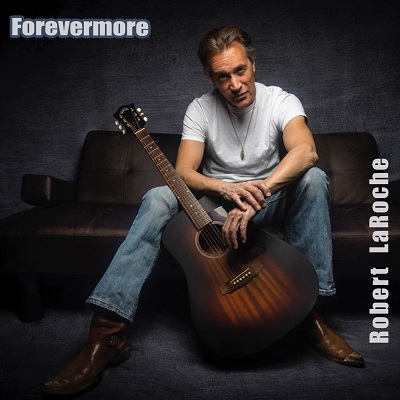 Robert LaRoche's talents have made him a fixture of the indie pop scene for several decades and he shows no signs of slowing down. If anything, his talents continue to deepen, and he never fails to challenge himself and listeners with audacious new directions. His latest turn, a ten-song released entitled Forevermore, delves into the rewards and complications of modern love without any of the cliched baggage affecting such tunes.
LaRoche built the bulk of his reputation as frontman for power pop band The Sighs and his solo career has proven equally rewarding. He's a grizzled veteran, yes, but LaRoche maintains a freshness with his songwriting that's abundant throughout Forevermore.
The album opener "Steal Your Heart" has a melancholy sweep and starts the collection off on an energetic note. LaRoche, however, tempers the energy level and conjures layers of nuance throughout the performance. It's a guitar driven piece and the full band effect of "Steal Your Heart" complements his outstanding vocal performance.
It's a reflection of LaRoche's songwriting precision that he can rhyme "suitcase" with "blues chase". These sorts of audacious lyrical turns are rife throughout LaRoche's songs and the shadowy overtones of "Burn That Kingdom Down" contribute to this being one of the album's best tracks. Zonder Kennedy's incendiary guitar solo closes the song on a memorable note.
Many of Forevermore's songs have underlying acoustic guitar and it isn't difficult imagining that's how they initially came to life; LaRoche alone and hammering these tracks into life with his guitar, pen, and paper. LaRoche cuts "Home Again" from that sort of cloth and it rates as one of the album's most confident performances.
The title song has a near-folky sound crossed with classical echoes. David Perales' violin fills the slowly developing, yet brief, song with unexpected elegance befitting its thoughtful lyrics. It's a refreshing shifting of gears after the acoustic-laden singer/songwriter power pop of its predecessors.
"She Knows" sports a deliberate tempo from the outset and LaRoche spikes the track with subtle vamps throughout the composition. The smattering of backing vocals present during the cut reinforces his emotive singing. Electric guitar fills flaring to life throughout the song ratchets up the steady intensity of this recording.
"Temporary Virtue" will be a favorite for many listeners. It is a little more spartan than earlier tracks, not glaringly so, but it's clear that a different approach captures his fancy with this tune. It overflows with intelligence and musicality alike and leaves attentive listeners with the distinct impression that no one else but LaRoche would have written this track.
"End of Time" concludes the album and strips things down even further. There's a haunted, spectral feel presiding over this performance and a light dollop of effects accentuates that mood.
There isn't a single song on this album that you'd call filler, and his vocals are as robust as ever. Robert LaRoche's Forevermore is one of the best releases in the songwriter's long career and shows there's still plenty of gas left in his tank.
Check out the official website for Robert LaRoche by clicking here.