Souleye – Wildman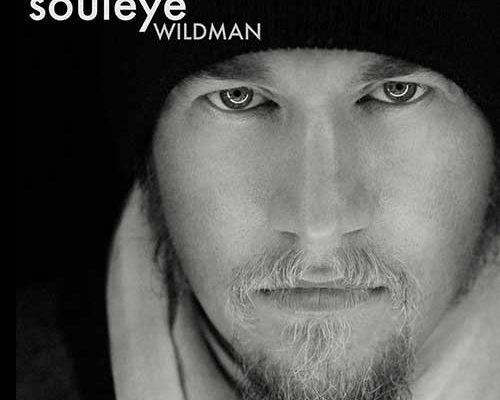 Wildman is the latest studio release from hip hop performer and lyricist Souleye. It adds another solid entry to a growing discography that stands up against any comparison to the genre's supposed giants. Don't chalk up any differences in public profiles to a disparity in talent. Souleye demonstrated an unusual command of the style from the beginning and his skills have only grown with time.
His songwriting has always been quite unlike any one else in the genre and the unique role he occupies gives him a signature presence that comes through on every new release. His positive spin on life, his advocacy for self-empowerment, and willingness to look within are far from sensational enough for a genre that often relies on the sordid, violent, or bleak to make any listeners. Naturally, Souleye isn't alone with these qualities, but he embodies a wider and more individual vision of hip hop's possibilities than many of her peers and contemporaries.
Electronica plays a big part in much of what Souleye does and he certainly isn't beyond utilizing the studio to make exactly the sort of albums he wants representing his name and work. His penchant for taking this approach comes across quite entertainingly on the album opener Dream Come True and the near virtuosity of the performance and songwriting serves notice that this is an album looking to make an impact.
The use of percussion on Wildman is dependent on samples and electronics but it has an across the board good sound that never strikes one as frozen or robotic. The pulse and percussion pushing Classic along is particularly effective and the guest contributions add other faces to the song's vocal potential that it would have otherwise lacked. This is how featured stars should work – rather than gaudily attempting to just draw commercial attention to a release, they should be bringing something to the table that the performance would otherwise miss.
It enhances the title song as well. The guest contributions from the singer Lynx gives it the bonus quality of having a soulful female singing contrasting with Souleye's comparatively dry delivery. It deepens the emotional qualities behind the song and plays well into the uncluttered groove the arrangement rides through the song.
One of the most direct and affecting tunes on Wildman comes with the song Follow Your Heart and Souleye, to his credit, takes a potentially clichéd lyric idea and transforms its potential by filling it with his own unique consciousness and charisma. "
Miles Away has some of the same commercial edge heard in the aforementioned song, but it's a little more diffuse and seems more explicitly aimed, if anywhere, at dance music. It doesn't stop Souleye, however, from bringing the same intelligence and verbal fluency to bear on the performance that defines the best cuts on this album.
Wildman is a wicked good musical ride steered by a performer and writer who is near or at the peak of his game. Souleye is a force to be reckoned with long after his initial emergence and shows no signs of slowing down.
[soundcloud url="https://soundcloud.com/souleye/follow-your-heart?in=souleye/sets/wildman" params="" width=" 100%" height="166″ iframe="true"/]
If you enjoyed a sneak preview from Wildman, check out Souleye's official website by clicking here. Give him a like on Facebook by clicking here & a follow on Twitter by clicking here.