The Flashpot Moments – s/t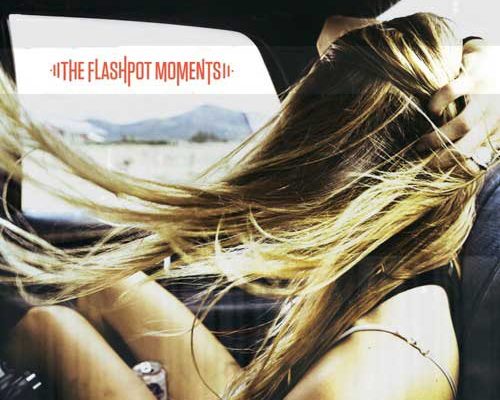 The Flashpot Moments, at least right now, aren't really a band. It's the project name for singer/songwriter/drummer Tim Cawley's personal music project and the first album brings in a number of musicians to help him realize the collection's sonic goals.
He's chosen well. The plethora of talents who join him on the album's eleven songs play with tremendous verve and skill that helps put over the anthemic, guitar-fueled power of this self-titled release. Cawley's songwriting has a superb sense of structure and a keen instinct for where crescendos should come in, how long a song should run, and when to take his foot off the gas in a music genre where such knowledge is in often painfully short supply.
The Flashpot Moments came together over time and Cawley recorded it in two studios on separate ends of the nation, but there's no sense of disharmony or chaos. The running order is perfect for the songs and everything sounds like part of the same seamless product.
It's a product with a strong, beating heart within. The heart is apparent from the first and never hides. Places Unknown is a song extolling the virtues of seizing life by the horns and pursuing its potential for adventure. Cawley delivers these sentiments with equal parts youthful brio, comedy, and an upbeat tone that is impossible not to like. Making music like this work for a widespread audience demands that the performer have the required amount of personality to get things over and Cawley certainly isn't lacking as a vocalist or songwriter.
Strangers Dance is one of the wiser, more knowing tracks on this release that shows Cawley's talent for taking established elements of this genre and making them his own. The song's melody comes to us immediately courtesy of some tasteful keyboard work and the boisterous guitars soon pick it up as well. The crescendos and choruses alike are some of the most memorable parts of this tune.
The album's fourth and fifth track are connected, but can be enjoyed separately. Splode (The Party Prelude) is a fun, entertaining lark about the anticipation (and dread) that comes before a large alcohol fueled gathering and will be instantly relatable for many. It uses dynamics much more than a lot of the songs on the album, but the contrast between its power and the ability to pull back matches its methodical pace.
The second song, Abigail, Mispronounced (The Party Aftermath) has a slightly brisker pace and a more straight ahead approach, but the added energy will likely make it a favorite over the preceding song for many.
Can't Wait To Find Out has a much more serious songwriting slant than many of the album's song and the dire lyric has some surprising venom dripping from its phrases, but Cawley's own point of view indicts himself as well.
The finale The Last Stand is clearly designed as a definitive statement for the release and such things usually end badly. Not here. Cawley stretches out and makes it work thanks to the imagination behind his songwriting. It's an expansive, challenging track, much more so at least than the earlier ten songs, but has a handsome payoff. Tim Cawley has created a fine musical and artistic experience with The Flashpot Moments that many will enjoy and love.
9 out of 10 stars
[soundcloud url="https://soundcloud.com/user-742818329/strangers-dance" params="" width=" 100%" height="166″ iframe="true"/]
If you enjoyed a preview from The Flashpot Moments, check out their official website by clicking here & give them a like on Facebook by clicking here.