The Frequencies – Wake Up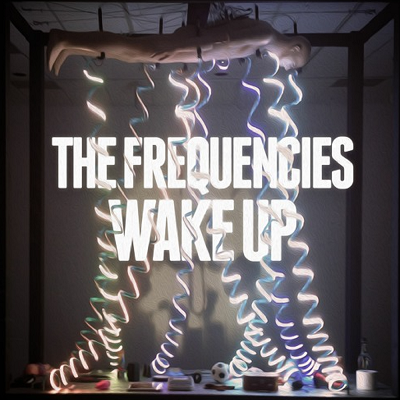 The Frequencies' debut collection Wake Up features a baker's dozen of songs. Each of the compositions features stellar musicianship and a cross-section of styles synthesizing into a coherent whole. There's no imitation; we are in familiar territory, but the Texas based three piece travels their own path.
Longtime friends James Iacuone, Mitch Kilman, and Sheetal Aiyer began playing music together two decades ago after first meeting in high school. Despite their extensive musical history, however, 2020 provided the necessary catalyst for the threesome to record their debut. Dubbing themselves The Frequencies, a band name that for me is perfect and harkens back to the late eighties or early to mid nineties in the best possible way, they connected with producer Salim Nourallah for this thirteen track release.
"Wormhole" knocked me back, no doubt about it. Perhaps I went into hearing Wake Up with limited expectations, but I don't think so. I met this album head-on and the horns, vocals, lyrics, guitar, and drumming for "Wormhole" hit the mark for me. The horns, though, are the song's exclamation point. They are never omnipresent, but they don't need to be. "Cleaner Heartaches", the second song, is another of Wake Up's peak moments. The Frequencies take another swift stylistic turn here incorporating a quasi-classical element into the performance. The piano is exquisite during "Cleaner Heartaches" and the intelligence behind its lyrical content is undeniable.
"Look at You" rolls things back to an early 70's rock band vibe with Iacuone's warm tasty leads and easy swing of the song's pulse. There's a whiff of country rock influence audible in this track, no stretch considering the band's West Texas roots, but it never sounds like a put-on. The band has internalized their influences rather than mimicking them; it's the difference between musicians carrying a tradition onward rather than wallowing in pure pastiche. "Time Ain't Right" swells into being and has a steady march-like tempo holding things together through a handful of changes. It spends much of its running time as relaxed rock, but the band can't resist flexing their guitar crunch at key points during the song.
"Why You Fightin'?" has a much faster pace and it's a welcome blast of energy near the album's conclusion. It has an exhortative quality, and the sense listeners get of the band addressing the world at large is inspiring. Songs compelling you to move with a message are rare commodities and this is a gem in that tradition. I love the melodic bass playing we hear during "Harp" and they achieve a jam band sort of vibe that's full of possibilities. The production is outstanding and allows each component an opportunity to shine.
Coupled with the songwriting, there's a level of polish present in this collection that suggests The Frequencies are aiming high. They don't manifest their ambitions in an obvious way; Wake Up lacks any absurdly long epics or similar trappings. Instead, the songs are powered by thoughtful and insightful lyrics, complex arrangements without ever lapsing into pretentiousness, and immense humanity. It's a winner!