The Johnny Mac Band – Ace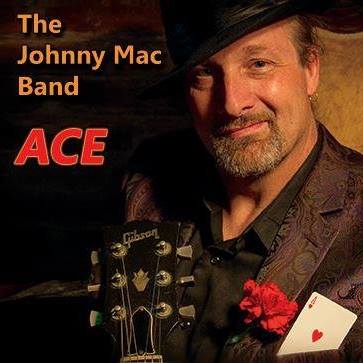 The unique sound of the Johnny Mac Band is well steeped in the roots of Blues, R&B, Funk, Reggae, Jazz and Soul music. The band features Johnny Mac a veteran of the New York circuit. Singing guitars and fiery solos bookend soulful voices supported by the rock-solid rhythm section of Joe Roberts on keyboards, Dave Ice on bass, and Raymond Hauck on drums. Ace is an album with some of the most diverse blends of these genres to be heard in the last five years.
The CD begins with Makin' Changes and it's not all that much to write home about, but the next track Om Badi and Om Badi (Reprise) have so much more to offer it's a wonder they aren't in reverse track order. The difference is like night and day, and to put it lightly the opener is the weaker of the two and one-part songs.
Luckily, another change comes and breaks the mood into yet another territory with Soul Angel giving one of the finest efforts on the album. You get a sense of his guitar chops and they don't stop biting once this song comes into the picture and his skills are finally established.
The singing is all amazing thus far, and it also never lets up, with every voice turning out fantastically. Part Time Man is where it gets most interesting for his voice, with probably his best work going into this track. It even has him stepping back just a little on guitar to keep it more even by showcasing his vocals. If there's a peaking point on this album, it's right here on this one smoldering track. This is subsequently followed by the less inspiring but still dazzling 5 Reasons To Leave but it is a decent track no-less. The blues takes a front seat and does the talking for this one.
You can't get around how good Johnny Mac is on the guitar, but as mentioned this album is full of very good vocals and 5 Reasons To Leave is no exception to that rule as the vocals chant away with him picking it off in the background fade-away. Down-home isn't even the word for it. If you like this sort of thing you'll be pleased.
Ace is another hot pick too, it can't lose as the title cut with its high standard applied. It's by no means at the top of the rim, but it's close. It's as good or better than at least half the songs. Take it or leave it, I'll take it. But there's much more greatness to be heard.
Waiting is a relaxing, quiet gem with another sweet vocal track that helps carry it with the female vocals getting more involved. This is a truly sophisticated song that could use a lot of exposure, a thing of beauty indeed. Soul at its very finest in a time when not enough of it is going around.
Goodbye Orlando is another piece of ear candy to go with it all. It comes recommended either in succession or skipping around, which I did both. It plays well from front to back and back to front, with Groove Machine closing it out, but it might as well actually open it up.
Check out the official website for the Johnny Mac Band by clicking here. Give them a like on Facebook by clicking here & a follow on Twitter by clicking here.