The Lowest Pair – Uncertain As It Is Uneven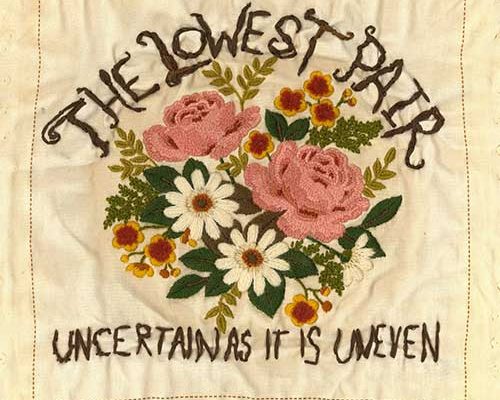 Cribbing the name of their duo, The Lowest Pair, from the title of a relatively unknown track from singer/songwriter John Hartford, Kendl Winter and Palmer T. Lee take a further step towards acknowledging their influences by titling the second of two albums they've released in 2016, Uncertain As It Is Uneven, from a line in the aforementioned song.
Hartford's songwriting is lined with pathos and a great deal of verbal ingenuity, but any overt similarities between him and The Lowest Pair's songwriting largely end there. Despite the duo's obvious allegiance to Americana musical forms, the eleven songs on this album betray no obvious guiding touching fueling its artistic decisions.
Lee and Winter, on Uncertain As It Is Uneven, accomplish a number of things, but one of its rarer achievements is that it fields a little less than a dozen tunes working well within a tradition, yet always maintains surprising independence from formula.
A great deal of this is thanks to the musicianship. Palmer T. Lee isn't merely some bearded purveyor of clawhammer banjo techniques, but an accomplished and fluid player instead quite capable of drawing a number of voices from the strings of his instrument.
The banjo is far from an one dimensional instrument in his hand. The guitar runs a close second, but many of the rich melodies in these songs are carried by the vocals and his banjo.
Winter is clearly the duo's dominant vocalist, but Lee's own turns as a lead singer bring a great deal of needed variety to the collection. Winter's voice has a deceptively wide range – she can move from fragile sensitivity to a much more assertive tone in a literal eye blink.
The range of her emotive singing, likewise, has a pleasing inevitability – meaning that, despite her ability to seamlessly and quickly shift gears, Winter's decisions as a singer on Uncertain As It Is Uneven have a natural procession that makes logical and dramatic sense. She quite obviously follows the arc of each lyric and her readings embody the experiences depicted therein.
Songs like the opener The Company I Keep, Keeweenaw Flower, 37 Tears, and The Sky Is Green are the album's finest. The first song features Winter handling the bulk of the song's vocal chores with excellent support from Lee and a simply worded, yet enormously lyrical musings.
The steady beauty and folk influences of Keeweenaw Flower gives Lee a chance to shine instrumentally away from the banjo and vocally. The last is crucial. Lee's vocal turn on this song gives it vivid ruggedness and a shot of confidence that transforms what, in other hands, might have been a somewhat staid folk song.
Lee, likewise, leads the way vocally on 37 Tears, but the duo utilizes their powers as harmony singers. The final song in this pack, The Sky is Green, works almost as a bit of clearly phrased poetry given a musical arrangement. Winter's vocal certainly takes great advantage of the song's shimmering melodies, but her attentive reading of the lyric emphasizes the writing's beauty while making it fully functional, rather than ornamental, within its musical context.
Uncertain As It Is Uneven is, as the press materials describe, a much more traditional outing than its "sister" album Fern Girl and Ice Man, but The Lowest Pair don't start off the album impressing listeners as a well-honed tribute act and the album doesn't end that way either. Instead, many will have a difficult, if not impossible, time failing to not be impressed by how deftly the duo works within lines long ago defined.
8 out of 10 stars
[soundcloud url="https://soundcloud.com/teamlove/the-lowest-pair-keeweenaw-flower" params="" width=" 100%" height="166″ iframe="true"/]
If you like what you hear, make sure to pick up Uncertain As It Is Uneven on Bandcamp by clicking here. Also give The Lowest Pair a like on Facebook by clicking here & a follow on Twitter by clicking here.