The Rideouts – Heart & Soul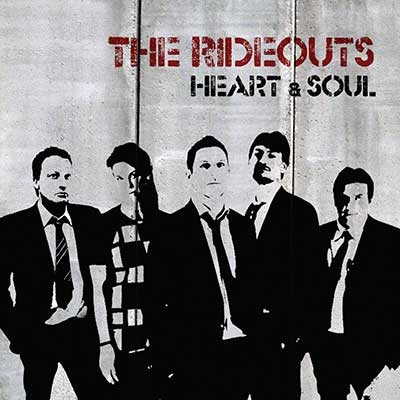 I want to say something right off the bat about The Rideouts; this Italian rock super group has this posted in their BIO page: Everybody and every band in music these days sound like someone else: right? Well, is that such a bad thing? After all John Lennon was a fan of Elvis which led his little band to sound just a tad "rock n' roll".  It's a bold statement to lead with, and in my opinion, maybe even an unnecessary one. The Rideouts defy their own definition by adding subtle nuances to their ever-evolving sound, making it difficult to pinpoint just exactly what this band is.
This is especially true on the bands latest outing, aptly tiled Heart & Soul. This 11 track emotional roller coaster has plenty of both, taking us through peaks and valleys, touching on distortion-laden funk and fragile, emotive pop rock. The group, fronted by multi-instrumentalist Max Scherbi, is at their best when they stick to the former, providing an "Arctic Monkey's" edge that is absolutely infectious. While the lighter moments on the album have their place, many of the structures and melodies feel less thought out and less energetic than their more upbeat counterparts.
The album opens on a soaring high note with Not Enough, a dueling guitar funk track with traces of punk culture laced in throughout for good measure. Scherbi is at his most energetic and charismatic in the tracks memorable chorus, and the support from his guitar accents the melodies expertly. Drummer Andrea D'Ostuni really shines on this track, laying down simple but effective beats coupled with frantic, high-energy fills that make the song a blast from beginning to end.
Many of the melodies and harmonies employed by Scherbi and backing vocalist Michela Grilli resemble The Beatles in their layered, intricate approach. The group are storytellers at heart; each of the tracks on the album has a signature callout, seemingly to a single individual. Tracks like Be A Man and Put The Blame On Me seem as though they are directly firmly towards specific people, while other tracks seemingly cry out to the whole world.
All of the sounds on the album really come together towards an epic finale, but instead, we are left with the heartbreakingly engaging Don't Cry. Going fully acoustic on a final track such as this one is a creative choice that many bands make, but few succeed with. With Don't Cry, The Rideouts have become one of the elite few. This subtle, somehow-still-uplifting grand finale really sends the album off correctly, and is a real highlight, even right at the very end.
At first pass, it can be somewhat easy to dismiss this album as "just another decent funk mix", but after a few repeat listens, you will begin to notice all of the subtle intricacies that come together to make the bands sound what it is: a refreshing, engrossing take on modern funk that dives deeply into pop and careens over the edge into true funk rock more than a few times. With cheery lyrical themes and a convincingly warm sound, The Rideouts are here to carve out a spot in your daily playlist with Heart & Soul.
[soundcloud url="https://soundcloud.com/therideouts/dont-cry-1″ params="" width=" 100%" height="166″ iframe="true"/]
If you like what you hear, make sure to give them a like on Facebook by clicking here & a follow on Twitter by clicking here.