The Stollers – Stationary Sun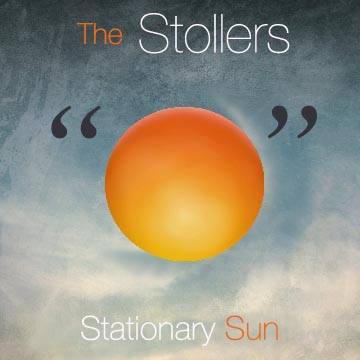 Brad and Lesley Stoller, New York natives hailing from a family with an extensive artistic pedigree, are reminders of earlier time but write and perform with thoroughly modern vitality. There's nothing dated here. If you find writing capable of utilizing traditional instruments in unexpected combinations while nevertheless obeying many central songwriting tenets, Stationary Sun isn't for you.
The Stollers pull from an array of familiar instrumental voices without ever allowing their material to sound too imitative or antiquated. Moreover, they never strike the listener as hidebound champions of dead tradition – instead, these songs take spectacular risks at certain points that pay off.
The vast majority of Stationary Sun devotes itself to moderately paced ballads. Anyone expecting The Stollers to be Martin guitar wielding folkies will be surprised to find they are, instead, supreme pop song stylists. Years of substandard music have shrouded "pop" with negativity that's hard to escape, but pop in the hands of the Stollers means something much different.
Songs like the opener Into the Brand New Day, Open Your Eyes, and You Can Come Home (With Me) are lush musical works brimming over with an impressive assembly of instruments – harmonica, saxophone, organ, piano, acoustic and electric guitar are just a few. The harmony vocals are a consistent strength throughout the album and particularly elevate the ballad material. The latter song, specifically, is one of Stationary Sun's best songs thanks to an intimately phrased lyric and sensible, even eloquent, blues based changes that build to a satisfying conclusion.
The album's most compelling moments, arguably, come with its moments of variation. Loredana is a simmering Latin-influenced track that the Stollers handle with, perhaps, surprising skill. The rhythm section glides with sultry grace and the vocal skillfully locks in with the groove.
Culture War is the album's experimental zenith, an outright jazz fusion track encompassing a surprising number of styles. Flashes of outright rock blast through the musical storm of jazz, R&B, and even funk to give everything an additional kick.
The Two Julians comes near the album's end and makes its mark, much like Culture War, through a bracing merger of exceptional lyrical content and vivid musical imagination. The Two Julians, however, is much less of a rant than the earlier song and focuses instead on narrative.
The characterizations are quite strong and never overwrought. The Stollers will surprise listeners a final time with the concluding track, Water Wheel, a lyrical solo piano piece that stands on its own as a thoroughly complete song. The melodic strengths present throughout the album are quite strong here and the audacity of finishing Stationary Sun with a classically influenced instrumental defies belief.
Much of this album defies belief. There's something intensely admirable about artists who mine such traditional veins of inspiration and present their work in such a fresh, memorable light. Stationary Sun's twelve songs are full of individuality and faithfulness to tradition, but they are likewise forward looking and rarely content to lean on the expected.
9 out 10 stars.