The Von – Ei8ht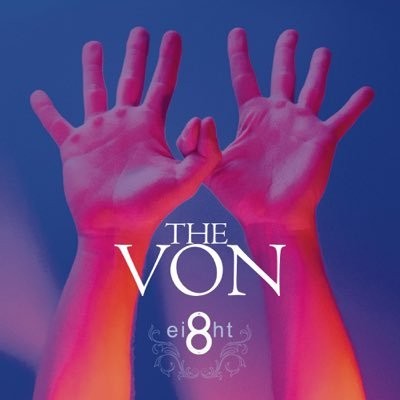 The sunny climes of southern Florida doesn't seem like the ideal breeding ground for serious-minded, hard rock power trios, but The Von gives lie to such assumptions. The debut album from this band, Ei8ht, is a satisfying aural assault led by Marek Schneider's wildly unpredictable and often overpowering guitar, but there's much more.
It's also a tightly managed songwriting clinic full of material that never overstays its welcome thanks to a variety of melodic elements. One isn't accustomed to hearing such great vocals from a power trio rock album, but singer and bassist Luis Bonilla ably handles his dual duties while still investing his vocal performance with equal amounts of emotion, technique, and range.
Nothing to Fear opens the album with heavy bass and a deliberate tempo. The song's message isn't exactly revelatory, but there's enough of an inventive lyrical approach present and Bonilla's voice is so earnest that it has the effect of giving the message a fresher spin.
The Machine certainly adopts the correct tempo for its steadily relentless portrait of an unfeeling world crushing all beneath its weight. The rhythm section provides a thunderous bottom end that Schneider extemporizes over with sonic brush strokes of varying color and depth.
The Von opens up the tempo with the next track, Cry Of War. Once again, the band isn't covering new territory here, but they have a way with the language. The true focus here is another deceptively conventional rocker that soon reveals itself operating in a much wider way.
Atomic Sun is the album's finest ballad moment. It's ideally suited for radio play, Internet or otherwise, and the skill with which it balances its tendencies towards high minded art with straight forward pop appeal is an important reason why. Bonilla turns in arguably the album's most sensitive vocal and the song's live feel is strengthened by how the music seems to interact with his voice.
The Von takes a somewhat surprising take on outright hard rock with Let It Out, but the approach is valid when considering the subject matter. The band is quite credible thundering away at ear-splitting decibels, but some might be concerned that the move doesn't seem to conform to the album's overall temperament. The songwriting, however, contrasts light and shade in a very balanced way.
The album's final songs, Don't Forget About Us and the title song, couldn't be more different. The first is a lively, percolating anagram of rock and pop. The rhythm section will command the attention of some. It snakes elastically through the song's changes with skill.
The last number is Ei8ht's final surprise. After studiously avoiding as many influences from the heroes as possible, they decide instead to adopt a longer than normal form and flex their talents manipulating dynamics for dramatic effect. The title song has multiple parts and each section neatly merges with the other. If you're looking for stitching, you won't find any.
Ei8ht makes a great first impression. Their music embodies one of rock and roll's newest faces – committed players with the daring to mingle various strands and the courage to embrace possible failure. The Von have found a flexible vehicle in these songs, but the assortment of curve balls hurled in the listener's general direction is convincing evidence that this outstanding album will win many over.
[soundcloud url="https://soundcloud.com/thevon4u/nothing-to-fear" params="" width=" 100%" height="166″ iframe="true"/]
If you like what you hear from The Von, give them a like on Facebook by clicking here & a follow on Twitter by clicking here.