Theo Czuk – The Black Bottom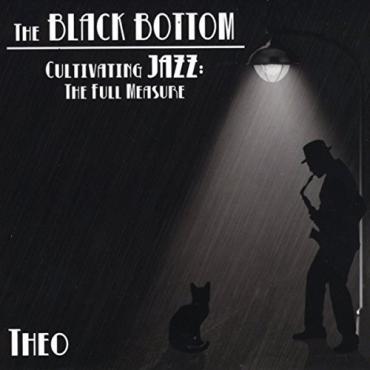 Few releases this year, or in recent memory for that matter, will impress experienced music fans quite like The Black Bottom. Theo Czuk's latest studio creations finds the Oregon based songwriter, musician, poet, and novelist providing longtime jazz devotees and erstwhile newcomers with an imaginative overview of sorts for the entire genre. There's very little ground he fails to cover.
Instead, The Black Bottom plumbs into a grab bag of styles and never strikes a false chord in its attempts to recall sometimes bygone styles. There's an ample amount of humor, as well, driving the collection and it comes through in a variety of ways – musically, lyrically, and even through Czuk's vocal delivery. The production really does a superb job of capturing the moment despite its low budget realities and Czuk clearly doesn't allow any restrictions in that regard to hamper his ability to make the album stand out. It's a definite stand out in every regard.
The majority of The Black Bottom is devoted to lyrically driven numbers but there are some important instrumental works that help shape the album in a significant way. The first of these numbers is the opening track and title song The Black Bottom. The finest bass playing on the album comes with this song and it's accentuated by tasteful drumming and colorful organ playing that serves as the song's primary melodic mover.
Cold Corridor has a slinky tempo and is carried melodically by a recurring brass figure impressing the right mood on the piece. He uses guitar well in this song and it has a distinctly different flavor, overall, than the opener while still maintaining a familiar tinge.
Let It Swing certainly had to be a challenge for the musicians, but they pull it off without missing a step while also imposing the tempo changes on listeners so that they experience the song as physically as possible.
He hits a definite high point, both compositionally and musically, with the track Mi Casa Bossa and it is a masterful balance of sophistication kept as accessible as possible. His deft mix of Latin influences filtered through a jazz sensibility makes this one of the best tracks of the album, no matter whether its instrumentally or lyrically driven.
Lunch Wagon on Highway 57 is one of the album's most intense numbers, both musically and lyrically, and his vocal delivery is quite befitting such dramatic focus. There's a lot going on here with the players, but despite the style they achieve, there's never any sense of the track being too cluttered or weighed down with self indulgence.
The tight melody and unusual instrumentation of Wooden Nickels is quite enjoyable despite its slightly skewed feel and Czuk keeps the song length just right without ever taxing listener's attentions.
Nika Nightingale (Is It Real?) is similar and runs a minute longer, but ultimately remains a little too remote to be as successful. Both songs, however, offer up sterling vocals and have particularly strong choruses.
Good Night's Sleep is one of the better songs during the album's second half and has a nice juxtaposition of its jaunty musical mood and a serious undercurrent coloring the lyrics.
Catalina Eddy has none of that serious undercurrent, but it's still a finely crafted piece of musical work confident enough to even throw in an improbable Deep Purple quote.
Closing Time ends The Black Bottom is probably the most appropriate manner possible with a barroom requiem, an instrumental that will seem utterly familiar to older musical listeners while clearly standing as its own work.
Theo Czuk's The Black Bottom is a dozen songs of pure musical goodness with a generous amount of talent backing it up at every step.
If you enjoyed a preview from The Black Bottom, check out Theo's official website by clicking here. Give him a like on Facebook by clicking here.