Threefifty – Gently Among the Coals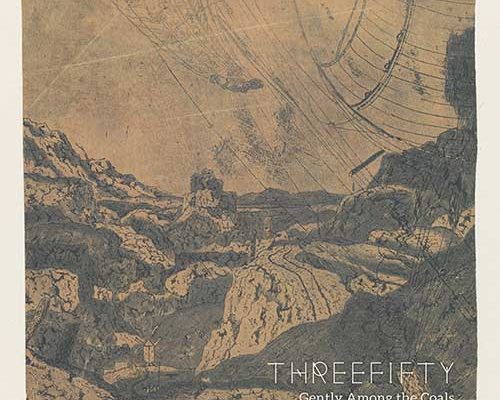 The forthcoming release from New York based Threefifty signals yet another turn in the artistic voyage for this unique eight member outfit. Gently Among the Coals features twelve songs doing nothing less than expanding what Threefifty's music means and can do. Founders Geremy Schulick and Brett Parnell initially cut their teeth playing classical guitar duo arrangements before their vision grew to encompass much more modern fare.
Their early guitar influences are audible on Gently Among the Coals, but there's more than just guitar driven stuff making this album work. The twelve songs on the release successfully challenge your expectations, entertain, and invigorate listeners with its sharply honed intelligence. Gently Among the Coals is often eloquent listening experience, both lyrically and musically, and delivered with a level of self assurance few bands ever achieve.
The band's audience will know they are in good hands from the beginning. Crossing State Lines gives us a hint of their ambitions to come with its assortment of guitar lines, each blending into the next, and the inventive use of other instruments in fresh ways. It has a cinematic verve too that listeners may not readily pick up on, but becomes more apparent as the song progresses.
The album's second song Allegiance could scarcely be more different and not just because it features words and a singer. The lyrics, courtesy of band member Jennifer Stock's dead mother Vicki Kennelly Stock, are a heady exploration of adult themes and reflected through a sharp poetic point of view.
Andromeda has more urgency than any of the aforementioned songs but the difference in attitude doesn't steer the band far away from what we've heard so far. It, perhaps, isn't a stretch to believe an eight piece band can conjure such a sonic storm, but this is a song that begs to be heard for the level of sheer involvement they achieve.
Unanchored has a stripped down approach, but the spartan arrangement doesn't affect the song's ability to cast a suggestive air over the listener. Part of this is thanks, in no small part, to how the song is constructed in a coherent and emotional direct manner.
The guitar returns to the fore on Until Our Hearts Give Out. The band refers to the song, despite its instrumental status, as an unadulterated love song and the music clearly touch on that style. The electric guitar melodies, especially, have a rising and falling quality that ably mimics the sensations of falling in love.
The sheer variation of their approach on The Door is enough to earn listener's respect and admiration, but the album's second Vicki Kennelly Stock lyric takes Gently Among the Coals in a different direction.
Fields is a song with three distinctly different personalities. It begins as a keyboard laden, even ambient song, before an arty second half shows off some carefully chosen instrumental points. It evolves into a surprisingly fiery second half that, nevertheless, has a wonderfully green and pastoral sound.
Guest Nathan Koci brings a tremendous amount of lyricism to the song Running in a Burning House and easily melds his instrumental talents as a brass player into the band's overall sound. It's one of the most compelling instrumentals on an album that will impress anyone who hears it. This is impossible to deny. Threefifty are leaving a deep mark on the scene with such wildly imaginative music and Gently Among the Coals is their best yet.
9 out of 10 stars
[soundcloud url="https://soundcloud.com/threefiftymusic/crossing-state-lines-1″ params="" width=" 100%" height="166″ iframe="true"/]
If you enjoyed a preview from Gently Among the Coals, check out Threefifty's official website by clicking here. While you are at it, give them a like on Facebook by clicking here & a follow on Twitter by clicking here.