Toronto Tabla Ensemble – For The Love Of Tabla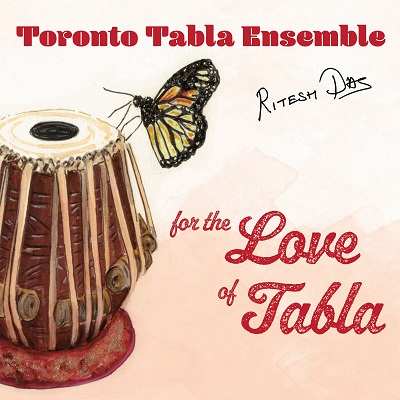 The Toronto Tabla Ensemble doesn't deserve the overused label "world music". Yes, there's plenty of what we commonly refer to as world music present in the ensemble's music and their latest album release For the Love of Tabla. It's present in the instrumentation, lyrical imagery, arranging, and overall sensibility. Founder and artistic director Ritesh Das began the ensemble's journey in 1991 and soon found traction as a force in Canadian life. It has continued for a little over thirty years through self-generated income derived from album sales, classes, grants, public donations, and private or corporate funding. Their apolitical organizational goals aren't especially lofty, but nonetheless impressive as they hope to expose as many as possible to Indian classical music, culture, and history in an accessible way.
Their musical releases illustrate this. For the Love of Tabla mixes pure Indian music instrumentals and others mix Western with traditional Indian instruments. There are other tracks featuring English lyrics while others are in a different language. A few cuts may seem outright experimental, at least the vocal arrangement, but nevertheless relatable. A good example of the latter is the album's opening track "Encore 21". It is a brief instrumental barely edging the two-minute mark and rife with wordless vocalizing the ensemble returns to later in the release.
It's an unconventional opening but effective. "Jovano Jovanke" is the first complete song and is more than satisfying. Multiple voices effortlessly harmonize non-English lyrics, and any language barrier doesn't undermine your reaction to the song. The ensemble does an exceptional job of invoking atmosphere with little apparent effort, particularly the string instruments, but the mood never stays stationary. "Jovano Jovanke" is not static and evolves as it progresses.
Songs such as "Baya Works" have an elastic sense of time. The instrumental hinges on the percussion and the ensemble keep things busy without ever overwhelming us, but "Baya Works" is a lesser track without its scattered affectations. The recurring deep bass note present during early passages gives the song ballast. "Prayer for the Mother" has everything you can hope for – beautiful vocal, unimpeachable sentiments, and an eloquent arrangement accentuating the song. It is condensed and feels longer without ever wearying listeners.
"Spellcheck" is a drumming showcase that blends Eastern and Western percussion with gripping results. Anyone who experiences powerful responses to rhythm will love "Spellcheck" and the blending of its different lineages creates tremendous momentum. "Takio Crush" is another peak moment on the release. The galloping opening sets a definite tone, but the Toronto Tabla Ensemble plays with the pacing as the song goes on. It focuses, once again, on tabla rather than a full band arrangement and the ensemble orchestrates it with a skillful hand.
For the Love of Tabla finds its mark on every front. The Toronto Tabla Ensemble hasn't built its reputation through gimmickry and cookie cutter "world music" but, instead, through integrity, hard work, and imagination. Their latest release shows their powers are undimmed and we can expect their successful run to continue.