Water Street – Waiting for Martin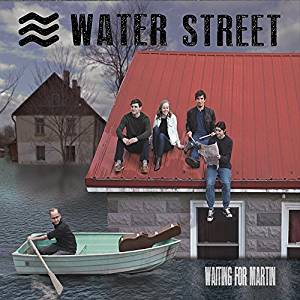 The first full length album release from New Jersey's Water Street is a ten song collection spanning a surprisingly wide variety of styles while still maintaining an overall consistency that never wavers.
The core of Waiting for Martin is centered around the album's acoustic songs and Water Street excels here especially with a full-faceted musical and lyrical approach that never overreaches. Water Street knows what they do best but never let themselves be too hemmed in by expectations. The band has a surprisingly rugged rock and roll side that emerges on the album's first half and its influence extends even into the later tracks with great balance and focus.
Water Street, with their obvious regional affinities, are unsurprisingly a family affair. Vocalist/guitarist and primary songwriter Dave Paulson shares singing duties with pianist/second guitarist Claire McNulty. Paulson and McNulty are joined, respectively, by his sister Milly on mandolin and her father Dave on electric bass and saxophone. It is a marvelous band and their debut offering ranks as among the year's best efforts in any genre.
Better Off Alone gives listeners full evidence of their quality in the first song. There's a great freshness in the band's sound despite the fact that they are tilling familiar lyrical and musical ground. This is, with little doubt, the result of Dave Paulson's superbly recorded and vital guitar work coupled with his compelling phrasing. The slight nasal twang present in Paulson's vocals gives the song some added authenticity and helps set his phrasing further apart from the customary vocal.
These Eyes hinges on the guitar, but its presentation and the overall arrangement utilize the instrument in a different fashion. Much of the guitar work in the opener is compositional and centered around the groove. Paulson's six string work must carry even more of the day on These Eyes because it isn't merely confined to fills and brief swaths of lead work.
McNulty takes her first big moment in the spotlight with the song Foul Play. Her piano playing is the song's instrumental engine and provides magnificent counterpoint to her achingly emotive singing. The lyrics are accessible for anyone, but they also sing out with a surprising poetic eloquence.
One of the album's more delightful style turns comes with the song Something Anything. The hint of desperation in the lyrics is directly at odds with the bouncy and loose musical backing.
A final cinematic ballad comes with Paulson's rather theatrical turn on the otherwise direct, uncluttered folk song Maybe. Paulson truly invests himself into the song and sounds like he's literally hanging with every word.
The last song on Waiting for Martin, Colors, is slightly reminiscent of the earlier track Something Anything, but there's more of a pronounced bittersweet quality underlying the experience that has brought the song's speaker to their current state. There isn't a better song on this album to serve as its closer because it neatly encapsulates all of the lyrical and musical elements involved in making the release so successful. Water Street couldn't have possibly gotten their career off to a better start with Waiting for Martin.
9 out of 10 stars
[soundcloud url="https://soundcloud.com/waterstreet/colors-water-street" params="" width=" 100%" height="166″ iframe="true"/]
If you enjoyed a sneak peek from Water Street's debut Waiting for Martin, give them a like on Facebook by clicking here or a follow on Twitter by clicking here.