Wave 21 – Brace Yourself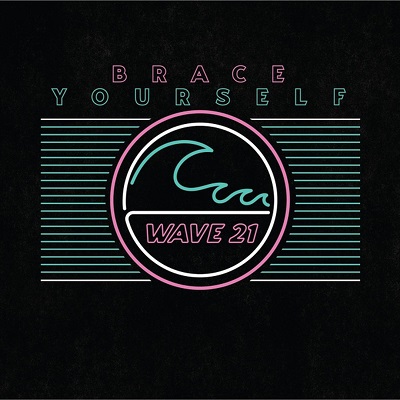 With the seductive throb of an R&B slow jam, a countrified melody starts to form on the back of a lead vocal that will soon be the greatest attribute "Over the Moon" has under its belt. There's a hint of romance in the air initially here, but it's soon replaced with a distant yearning that seems to have come sourced off of the Alberta prairie. We find it in "Way Far Back," "All Over & Over," and throughout Wave 21's Brace Yourself, and while it isn't a concept album, this record feels like a story as uniquely Canadian as it is undeniably immersive.
Sam Roberts Band and Steve Hill make for some terrific guests in this LP, but their contributions pale to those from Wave 21 on their own in songs like the Crash Test Dummies-inspired "My Latest Song for You," Fleetwood Mac's own "Dreams," and "The White Wings of an Angel," all of which employ folk-rock aesthetics to make tired country narratives sound refreshing and post-hipster in nature. "Why Does It Happen" is the most streamlined track here, but even in its clandestine delivery of catharsis, we find speckled pastoral poeticisms waiting to embrace us. This album has so much feeling for running just over a half-hour in total length, but then again, I've come to expect that from this crew.
Even if the slow-rolling rhythm of "Long May You Love" or the gentle pop sway of "Stay the Night" or "Whenever Your Near" isn't something you'd typically go for, I implore you to check out Wave 21's Brace Yourself when you get a chance this summer. Through the lens of Canadian rock music, this country crossover has got too much likeability to be resisted, and I say that having been a little skeptical of this group's depth upon hearing their debut three years ago. They've matured by leaps and bounds, and the material has prospered for it.
Check out the official website for Wave 21 by clicking here. Connect with them on their socials such as Facebook, Instagram, Twitter & Youtube. Lastly check out the new album Brace Yourself on Spotify.