Zoe Nutt – Like You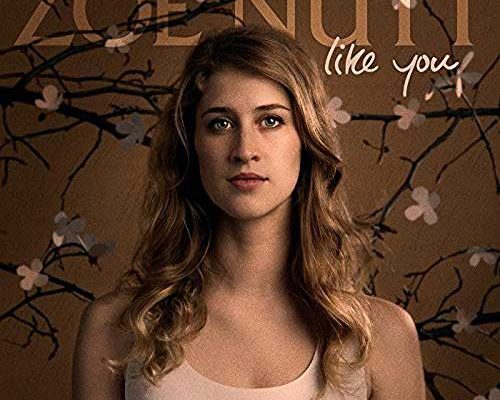 Nashville, once a bastion of steel guitars and twangs thick enough to cut diamonds, has diversified itself musically a great deal over the last quarter century. The pop country boom has carried the genre so deeply into the mainstream that once dyed in the wool rockers like Aerosmith's Steven Tyler have made serious forays into the style. Many of these efforts play almost exclusively to formula.
Zoe Nutt's debut, Like You, will strike listeners as familiar, but yet, it goes much deeper than by the numbers Nashville product. The eleven songs on Like You cover multiple styles under the same tent while retaining a consistency of theme and tenor that helps the release achieve a remarkable cohesiveness. There's not a single song that plays to the lowest common denominator or hesitates plumbing as deeply as possible into the songwriter's personal experience. Such merits are the stuff that great albums are made from.
The first track, Nothing I Can Do, begins with Nutt's angelic pipes essaying the song acapella. It soon shifts into a lightly pressed groove with relaxed performances from Nutt's collaborators that never underplays the music or pushes it too hard. There are some echoes of Nutt's influences – the song's refrain hints at a nod to the Fleetwood Mac classic Landslide – but, ultimately, this is very much an individual achievement.
The relaxed musical mood continues on the subtle Antique Soda Pop Love, the album's first real evidence of Nutt's skills as a storyteller. She approaches lyrical narratives with the sure hand of a short story writer, but yet exhibits enough technique that she mingles the general and specific to marvelous effect.
She will definitely turn some heads with the bluesy stunner Look the Other Way, a vocal tour de force that gives her an extended forum for displaying her chops. It's a marvelously emotive performance perfectly complemented by the slow-burning musical accompaniment.
The title song is one of the most exquisitely wrought pieces on the release. It has a will-o-wisp quality that's difficult to define, but it holds together marvelously. Zoe Nutt's vocal is delicately delivered, but she applies just enough sonic force to impose her presence over the appealing backing track.
Bones finds her turning her attention back towards the blues, but her focus manifests itself in a different musical fashion. This song is much more zeroed in on acoustic textures and even throws in dollops of slide guitar to accentuate its gritty authenticity. As always, Nutt gives listeners another gorgeously phrased and attentive vocal.
I'm On Fire is a surprising addition, a cover of Bruce Springsteen's distinctly electrified song from the seminal Born in the USA album. Naturally, Nutt takes quite a different tack with her version and opts to recast the song in a strictly acoustic framework with some more slide guitar added for color.
The album's finale, Dearest, closes things with the grace of a leaf slowly falling to the ground and that wafting, incandescent quality is one of its more remarkable features.
There is a bright glow emanating from the album as a whole. Like You is one of the year's best releases, debut or not, and serves as a glittering harbinger of greatness to come.
9 out of 10 stars
If you enjoyed a sample from Zoe Nutt's Like You, give her a like on Facebook by clicking here & a follow on Twitter by clicking here.