Alex Di Leo – So We Go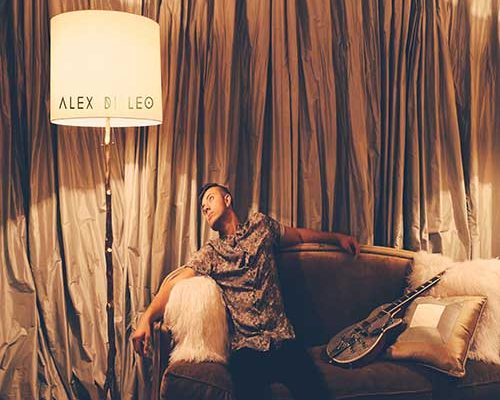 Fort Lauderdale's Alex Di Leo is a veteran performer, singer, and songwriter who has logged time with popular South Florida band Wyld Fly before their 2014 breakup, and now hits the scene with his debut solo effort So We Go.
This six song EP highlights Di Leo as a genuine creative force thanks to songwriting that touches on modern needs while invoking longstanding fundamentals. The result is a collection that both younger and older music fans can positively respond to and find both entertainment and serious value from. There's a strong emphasis on atmosphere with these songs – it's akin to music blaring from the bottom of a well but within any of the negative connotation such a description implies. Despite the upbeat thrust of the lyrical content, the music inhabits a delicate, dreamlike soundscape.
The title song starts things off and has an amazing ability quickly to capture listener's attentions. There's a strong pop edge to the song, but a close listen to the track is a fascinating study. Di Leo's structure for these songs is somewhat obvious, but it's this sort of bracing simplicity that enables his songs to so readily connect with their intended audience. The drumming is particularly strong on this song and gives it a real sense of drama.
Making It Easier swirls with even more pronounced dramatics than the opener and shows considerably less pretense getting us there as listeners. We are swept up from the first seconds on. Piano is the center, musically, and all things spin in its orbit, but the lavish vocal harmonies certainly contribute much.
Di Leo pulls back on the theatrics some for the next song Reason and this much more pensive, meditative tack shows a gentler side to Di Leo's songwriting than either of the first two songs without ever undermining the momentum built by the EP up to this point.
When We First Met is a return, of sorts, to the grand pop principles defining the first two songs but has a much more singer/songwriter aim. The narrative qualities found in the song's lyrics distinguish it from those earlier, admittedly fine, efforts and it shows another side to Di Leo's artistic spirit.
The EP's final songs wind listeners up for a big screen ending. The first, I've Been Waiting, is one of the EP's best and fullest realized numbers with Di Leo's most impassioned vocal yet and some of the album's best lyrics.
The EP closer, Waking Up, is a stunner finish for So We Go that amps up the musical and vocal intensity alike for a rousing sendoff. Di Leo pushes himself harder than ever before on this song and his musical collaborators respond in kind with a strong musical performance that complements him well.
So We Go is an excellent building block for Di Leo's music career from this point forward, but it's also an substantive release that stands on its own merits as compelling pop songcraft. His abilities outstrip those of your typical garden variety songwriting because of his clear-eyed understand for how this sort of material works best.
9 out of 10 stars
[soundcloud url="https://soundcloud.com/lexieo/make-it-easier" params="" width=" 100%" height="166″ iframe="true"/]
If you enjoyed a preview from Alex Di Leo's So We Go EP, give him a like on Facebook by clicking here & a follow on Twitter by clicking here.