Angie and the Deserters – Blood Like Wine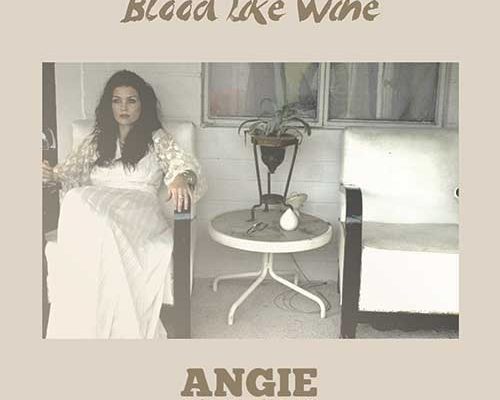 Angie Bruyere's decision to concentrate on music over modeling, judging from the quality of her band's latest release Blood Like Wine, is proving to be an exceptionally smart maneuver.
She is one of the rare performers who can delve into traditional forms and still surface with something uniquely her own to say. Her personality thoroughly inhabits each of the five songs on Blood Like Wine and fills them with a signature spirit reaching far beyond the lines of typical country or blues song craft.
The traditional music she pursues is a vehicle to reinforce the natural authenticity of her own voice and it comes through in each song with astonishing clarity. The collaborators, or Deserters, she works with to realize these musical works are an astonishingly versatile lot with the ability to imbue these traditional forms with their own distinctive turns. The latest release builds further on the promise heard on her earlier full length album and shows her and the band as legends in the offing.
It tears into listeners immediately. Country Radio is a whiskey-soaked hangover romp with fire and determination pulsing through every line. It's Bruyere's best vocal on the album – she veers wildly back and forth from brief flashes of vulnerability to long swaths of bitterness and a delightfully gleeful sneer snapping off certain lines.
The guitars flash and flicker like flames from the arrangement. Angie and the Deserters back off the gas pedal for Smile and show themselves equally capable of fashioning a stately, perfectly modulated ballad that never panders to listeners/ While they embrace certain country traditions and have the instrumental facility to pull off any style, it's clear they are wise enough to take what they need and leave the rest behind/ Smile is beautifully wrought and eminently tasteful.
The Gift is a much more nominally complex affair. The tempo is much different than the straight-forward attack heard on much of the album but never ventures so far afield from the band's core strengths that it causes a jarring effect. The guitars and other instrumentation weaves brief melodic lines before briefly retreating and Bruyere's voice creates magic in the spaces.
The penultimate song, Ain't Goin' Down, has a gently insistent effect and never becomes too heavy-handed for its own good. Instead, it makes it case through accumulation instead of announcing itself immediately.
Angie and the Deserters end the release with Don't Cry. Despite the relatively non-descript song title, the steady build from its quiet acoustic beginnings to a stirring conclusion makes for one of the best moments on Blood Like Wine. It certainly contends with the opener as Bruyere's best vocal on an otherwise tour de force performance.
Blood Like Wine will strengthen the band's position as a collection of the genre's most talented practitioners. There isn't a single false note on any of these songs and they play with such wonderful spontaneity that it isn't any stretch to imagine them being cut live in the studio. Angie and the Deserters are one of the most vibrant musical units working today.
[soundcloud url="https://soundcloud.com/angieandthedeserters/aint-goin-down" params="" width=" 100%" height="166″ iframe="true"/]
If you like the preview from Blood Like Wine, give Angie and the Deserters a like on Facebook by clicking here & a follow on Twitter by clicking here.