Angie and The Deserters – You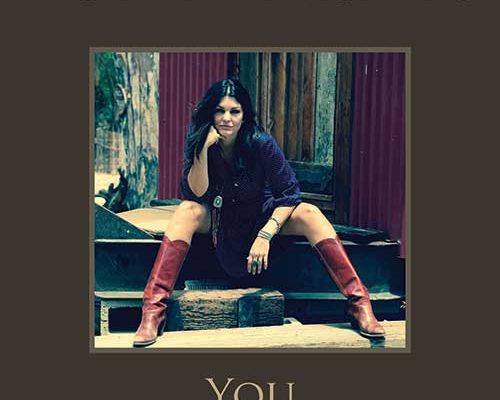 The third  recording from Southern California based Angie and the Deserters, You, follows up magnificently on their latest release Blood Like Wine and manifests quite a different mood than that title.  With rare exceptions, Angie Bruyere and her band mates take the occasional foot of the gas pedal that they frequently employed on the aforementioned earlier release and, instead, concentrate on creating and performer much moodier, more nuanced material.
Despite the fact that Angie and the Deserters are an Americana band with all of the accompanying influences, Bruyere is a songwriter unafraid to make as much sensible use as she can of various instruments and even time signatures to further improve the tracks. There is much here that will please blues, rock, and country fans, but there's ample creativity here and the EP's six songs never operate strictly by the numbers.
Stay is, arguably, the EP's best ballad. It's a tremendously polished track, but never so much that finesse robs of it of any authenticity. Instead, it just shows the considerable technique that helps Angie and her partners convey their passion for the material.
Angie is an ideal singer for each of the EP's six songs. She can personify a variety of approaches and sound convincing in each while never losing any of the musicality that sets her apart from the strictly lung-busting school of bluesy female singers or the overly cautious approach employed by many female singer/songwriters. There's a lot of soul in Angie's voice and a personality that comes through in every line. Not many singers, regardless of genre, can claim such a distinction.
She proves she has quite a way with classic country music tropes on Forgetting to Forget. It isn't any sort of craven imitation or tribute however; instead, the feeling that Bruyere recognizes this tradition as a valid vehicle for writing songs about her own heartaches and that she has something to contribute to its ongoing vitality.
The title song is in waltz-time interspersed with brief transitions, but the challenging meter doesn't pose any problems with Bruyere as a singer or her fellow musicians. Instead, this is an immensely stylish outing that finds everyone in exceptional form and the songwriting gaining added luster from the performer's skill and, more importantly, confidence in attempting it.
17 Days summons up a lot of familiar imagery for its depiction of loneliness and lost love and takes a simple, very direct line to the listener's hearts. It has a more uptempo pace than the earlier tracks, but it's far from the rampaging rockabilly whiskey sound she conjured, as an example, on Blood Like Wine's barnburner Country Radio.
The only firepower on You that's really in that particular vein is the track When the Nighttime Comes, a tale of personal apocalypse with some memorable and loud lead guitar fills and an intensity that the surrounding material pales in comparison to. Despite the much larger presence of guitar on this song, its firebreathing presence isn't constant and, more often than not, the song pursues the same acoustic template listeners encounter elsewhere on the EP.
This is a satisfying and frequently remarkable listen from the first note to last. Angie Bruyere has presence and appeal that decades long singers would kill to demonstrate on such a regular basis and it seemingly comes from her effortlessly. You is the next remarkable step in her musical journey and we are lucky to hear it all.
9 out of 10 stars
If you enjoyed a preview of Angie & The Deserters EP You, give them a like on Facebook by clicking here & a follow on Twitter by clicking here.