Bastion – Crystal EP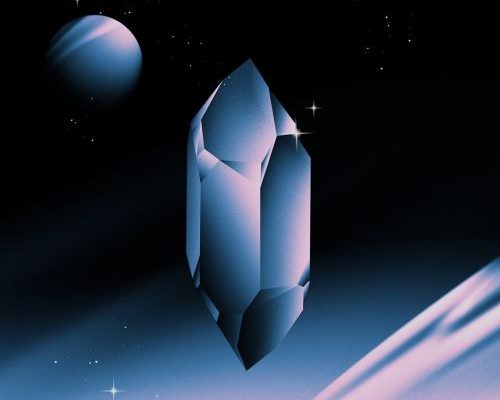 The Paris, France-based electronic pop twosome (or possibly a music producer solo act) who comprise Bastion may keep a low profile (Who are they and what is their backstory?), but their engaging compositions with guest vocalists shine brightly and clearly.
The self-described 'French Touch' duo calls the Sexy Brut. record label home and its snazzy, vibrant debut Crystal EP, out since September 13th, shows off different facets of Bastion's EDM-driven sound.
Bastion is not just about the music, but also the visual representation of its EP and singles.  The artist, designer, and illustrator Victor Moatti was enlisted to capture the glowing, prismatic nature of acrystal shard (floating in space, of course!) in a series of richly iridescent designs.
Lead single Twisted Love Feat. Bobby Saint goes light house/funk with its elastic bass line, buzzing electronics, peppy horn blips, a steadily thumpin' beat, and Saint's highly twisting, vivid vocals.
Next track Palace is all Bastion and is all instrumental, rockin' out with dangerously low piano notes at its start, then moving into a scratchy, bass line-led groove, and dancing keyboard runs.  As the heartbeat-rhythm sets the tempo, orchestral strings add a reflective, classical vibe before the track heads back into the spaceship that's jetting off to land on Planet Electro-Funk.
Guest vocalist Katelyn Tarver drops her sweetly tangy vocals on the aurally acrobatic Another Universe, singing about "the future", the "speed of light", and being "out of orbit".  The electronic/synth(etic) sonics whirl all around Tarver in a lively display.
Radium (Feat. Pink Feathers) radiates a more straightforward electro-pop ambience with airily cooing vocals from Portland, Oregan-located Liz Anjos (of music project Pink Feathers).  Anjos sighs, "You take my hand / We kiss, we drift into the sky / The stars are spinning 'round again." against zippy synth jags, tinkling electronic notes, and percolating percussion.
The nocturnal atmosphere of a simmering Motorik pace and keyboard shimmer that floats through New World (Feat. Whitemary) is awoken by twinkling synths sparkle, sharply exclaimed female vocals, and crisply clacking percussion.
As an added attraction, Bastion has also released the Crystal The Remix EP, with reworked tracks from Suken, Jules Field, Billboard, and FIBRE.  Electronic music producer Suken has now joined the Sexy Brut. roster and his spin on Another Universe (Feat. Katelyn Tarver) is a fresh take on the original, where he slows down the central rhythm and peppers the mix with Tarver's chopped up, but dynamic vocal fragments.
[soundcloud url="https://soundcloud.com/bastion-paris/bastion-bobby-saint-twisted-love" params="" width=" 100%" height="166″ iframe="true"/]
If you enjoyed the preview of Bastion's Crystal EP, give them a like on Facebook by clicking here & a follow on Twitter by clicking here.