Broke Royals – The Luxury Of Time Pt. 3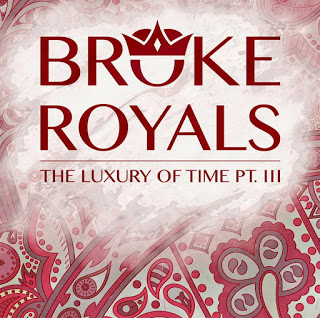 The Luxury Of Time Part Three is the third release from Washington D.C. based duo Broke Royals. Philip Basnight and Collin Cross first formed the synth-rock band in 2014 and have released three EP's in their Luxury of Time series since this.
The most recent release is a six song collection that shows songwriters and performers who have evolved tremendously since their debut while still holding onto the abiding creative impulse that spurred them to seek out being heard initially. Their sound revolves around a limited palette of instruments, but Cross and Basnight make excellent use of their tools and marry that sonic instinct with an unerring penchant for winning melodies.
Broke Royals are electrifying on a number of levels, but their ability to bring various elements together in an uniquely personal package with the potential for widespread appeal. Broke Royals are a band that clearly knows what their audiences crave and delivers it expertly.
There's a bracing positive message informing much of their music. It's apparent from the first song, On Your Own, that Broke Royals are a spirited outfit emboldened by passion and conviction. The harmonies emphasize this mood, though the production dulls them some with over treated post-production effects that make the voices sound a little synthetic.
New Suns is one of the release's best songs thanks to its relentless pulse, strong lyrical content, and another memorable vocal. There are no missteps in the track's presentation and it seems ideally suited for live performance. The lyrics have a more universal message than the more nominally personal first song, but the duo continues to balance plain-spoken language with hints of poetic flourish. It complements the music well.
Young Tigers is cast from a similar mold, but is fewer synthesizers dominated the earlier selections. The electronica balances between sparkling electric piano lines and one bubbling synth melody after another while the percussion holds down a steady, simplified tempo. The vocals are sensitive without ever losing any urgency and well placed in the mix.
Love, Youth, & Glory opens with a memorable flourish and certainly proceeds along more intense lines than earlier tracks, but it's merely a bigger elaboration of the band's core strengths. The flair for the dramatic serves them well on a number of songs, but none better than Love, Youth, & Glory.
The Luxury Of Time Part Three's last full song is Heartless Come Around. It's the EP's longest song, running nearly four minutes, but doesn't break new ground as much as it reaffirms all that's preceded it. There's a stronger guitar presence in the song than many of the earlier songs and the extra exertion gives the song a solid sense of finality. T
here's an instrumental coda that concludes the EP entitled Outro, but its length and intention makes it more of an afterthought and affectation than any meaningful addition to the work.
The Luxury Of Time Part Three is a consistent collection with imaginative songwriting and entertaining performances. It has a couple of misses scattered throughout, but for the most part, Broke Royals' latest sounds like the work of a band continuing to refine their vision by leaps and bounds.
[soundcloud url="https://soundcloud.com/brokeroyals/on-my-way" params="" width=" 100%" height="166″ iframe="true"/]
If you like what you hear from Broke Royals, make sure to give them a like on Facebook by clicking here & a follow on Twitter by clicking here.