Claudia Norris – Shine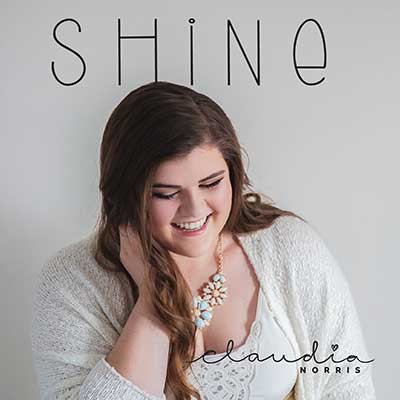 Claudia Norris' Shine kicks off with a statement of intent; the opener Tonight guaranteed to send its audience hurtling into the nightlife ready to shake it until the dawn. This dance heavy opening sets its sights on an intoxicating beat that is both driving and laid back as it bumps hips with sizzling electric guitars and some slight influences of European house music.
Everything is wrapped up in a pop package where Norris' vocals shine brighter than the sun as the namesake of the EP suggests. Pop has a habit of being too constricted and calculated in the 2000s but Tonight really casts off a vibe of freedom and fun unlike many of the artists on the corporate payroll these days. Claudia knows how to put together a tune that appeals to the ears and the mind in tandem.
The title track is a gear shift into modern rock territory. Featuring some buzzing backing guitars placed alongside keyboard dazzle and a rhythm section that two-steps its way along, the song is a tour de force for the songstress to reach high and low in her bag of tricks giving a vocal performance that's destined to be a frequently spun single if heard by the right DJ.
If the rather mundane Friday from Rebecca Black can become a viral Internet sensation, there is no good excuse that Norris' superior material should have trouble finding a dedicated set of fans. This track is an interesting precursor to Marry You which is the only ballad on the EP. Here Claudia confesses herself to a crush with a trembling, understated vocal melody that melts like butter over a bed of piano, acoustic guitars, electro-percussion and plucky bass lines. The song is truly a mesmerizing tune and even though it brings down the overall energy level of the EP, it provides that necessary break in tradition that illustrates Claudia is capable of managing herself no matter what type of material she's working with.
The EP saves the best song for last in Sunny Afternoon. It's a simple yet gorgeously and effectively arranged pop song with slight rock and Nashville undertones. The acoustic and slide guitars give the music an authentic feel that's a bit more "old school" than the preceding tracks as the rhythms rock out sternly and the keyboards basically support the rest of the instrumentation. Claudia's biggest vocal hooks and tightest chorus are all present in Sunny Afternoon and it's certainly the pick for EP highlight from where this reviewer is sitting.
Shine works because of Norris' resilience in making exactly the type of music that she wants to make without record label interference and because of this the four songs on this EP resonate and even sound rather original when compared to her contemporaries. Fans of everyone from Mandy Moore's early work to Hilary Duff should find something to enjoy on Shine. The steady-handed songwriting keeps each tune afloat, setting things up for Norris' voice to provide a delicious, milk chocolate icing on this pop layer cake.
9 out of 10 stars
If you like what you hear from Claudia, like her on Facebook by clicking here  & follow her on Twitter by clicking here.