Cost of Attrition – There You Go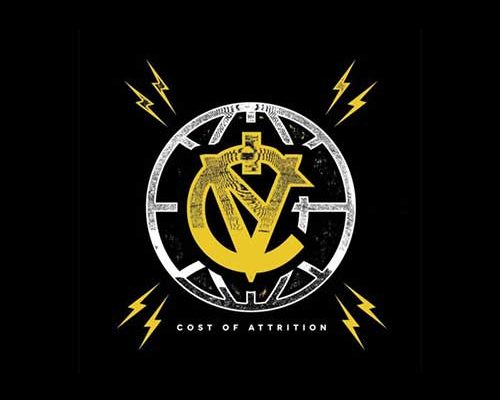 This is a duo that never stylistically confines themselves. Cost of Attrition is an Indianapolis based pop rock duo who also frequently venture into other textures like metal and electronica with crackling success has garnered them coveted opening spots with national headliners.
The debut release from the duo, There You Go, pushes their assured and brash sound hard in a balanced musical attack. They possess a sharp artistic edge while still being quite entertaining and never succumb to moments of self-indulgence or pretentiousness. The very idea of a duo making such a broad, sweeping sound challenges our preconceptions about what two musicians can do. Few bands, in any configuration, emerge with such a clearly delineated artistic vision and it is quite exciting entertaining the myriad of possibilities for them from this point forward.
Not Your Psycho has massive swagger and Wheeler Castaneda's vocals strike a fiery contrast with his emotive singing. His technique never sounds overwrought; instead, it embodies the band's songwriting in a dramatic way. The guitar work from Joshua Grow shows moments of real flash, but it never lays things on too thick and shows a solid command of fundamentals and an attentive ear as well.
It's refreshing to hear the production on this trio of songs – Cost of Attrition's DIY method is, apparently, no restriction on their ability to invest these tracks with a top flight, professional sheen. The rhythm section, in particular, sounds like a bulldozer capable of knocking down a wall.
Oh Yeah has the same swing and inclinations towards a commercial side, but Cost of Attrition never allows their commercial considerations to outweigh their strong personal style. Castaneda's singing is again a highlight and his phrasing carries a electric charge of energy that comes across on a studio recording and can likely spark any live crowd. This is intensely youthful music, but that doesn't mean it isn't written and recorded by a high degree of intelligence.
They show another side with There You Go, the EP's title song. The addition of acoustic guitar lightens the band's sound without ever compromising the identity they've laid out in the first two numbers. There are trademark characteristics you can label in every great band and Cost of Attrition is no different.
The bass and drumming announce themselves without ever dominating in the mix and the melodic elements never experience a moment of weakness; in fact, they are emphasized throughout. These musical principals find their clearest expression on the title song and it puts an emphatic exclamation point on the release.
Cost of Attrition comes barreling out of the speakers from the first second and modulates their musical thrust along the way without ever diluting their approach. This Midwestern duo are experiencing frequent and early success for all the right reasons – these are honest, artful, and high energy tunes certain to engage their target audience.
9 out of 10 stars
If you enjoyed a preview from There You Go, check out the official website for Cost of Attrition by clicking here, give them a like on Facebook by clicking here & a follow on Twitter by clicking here.