David Starr – The Head And Heart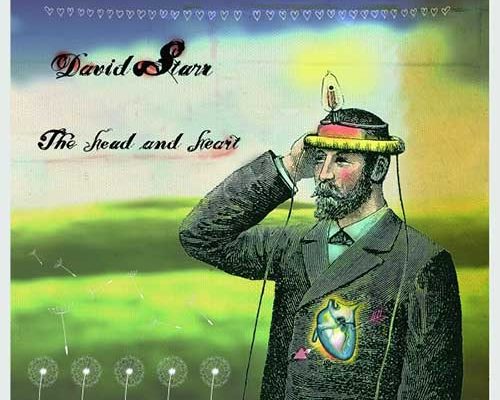 John Oates produced The Head And Heart at Addiction Sound Studios in Nashville. Starr wrote or co-wrote five of the six songs. It was Oates' idea to include The Mamas & The Papas' classic California Dreamin'. Starr established Starr's Guitars in downtown Cedaredge, Colorado, in 2001. He grew up in Northwest Arkansas and started playing drums at 10, then picked up a guitar at 13. He has released eight albums, including The Head and Heart.
After seven albums, David Starr stays well-grounded and surrounded by the likes of John Oates, which who wouldn't be humbled to work with. This is not the first time and probably won't be the last, as Oates even played on his last release. It comes out in the songs here too, and therefore can't be denied as a quality product, backed by some great musicianship. But only being an EP, it begs for so much more which could've been to a higher advantage to him and his fans at this stage. But it takes nothing away from what you do get in these six tracks. It is all a little on the mellow side, but not being familiar with him, that could just be the standard pace.
The tracks kick off with Edge Of The World which sounds like it might be an energetic title, but it's not a quick note to ring in on. But the storytelling, singer/songwriter class song is a mature piece of music with some great lyrics. No use getting me wrong here, but you do have to expect a lower register when listening to this. And once you do, you get the picture with ease, and just enjoy the vocals and very countrified arrangement. There is a message here with the title in the chorus. It is a fine opener that way, once it sinks in. And away it goes from there with the title track The Head And Heart to help that first track stick, as it follows the same lyrical wisdom.
It obviously carries on about the differences between the decisions the head and the heart make, and how they contrast. We often lose the them in the wrong order because we're not using the right one when we should be. It's deep, but if you like lyrics and you've been around long enough you will get it. This is adult contemporary aimed music, so, nothing for the inexperienced to wrap their head around. David Starr is not new on the block, even if he is new to you or me.  Each track so far holds its own and then some. This one even being a little bit shorter, but also sweeter as well.
The next track meets the middle of the disc with a melancholy cover of The Mamas and The Papas California Dreaming. But this is where things get mighty interesting, because in the process he nailed a remarkably haunting version. It is a surprisingly hypnotic take on the classic. It should be exposed for all it is worth. It builds up very well and keeps going at a satisfying pace, but the only problem is, it ends abruptly, leaving you wanting so much more. Maybe a fade away ending would be better but you can't have everything, especially when you already get so much effort to do something in a different way here. And he managed to pull off a refreshing rendition of it, in an almost gospel singing fashion with strings and everything.
On Waiting In The Dark he follows up with some more vocal genius, which is obviously his strongest suit to be found if you're hearing him for the first time anyway. He delivers another standard with this track, almost like changing it up without a lot of notice. As the guitars do come a lot more to life on this. And to digress on the former opinion, his voice carries this beyond any concern of it being an EP. But that doesn't mean an entire album would appeal any less. And this track also improves on the abrupt ending of the previous, by providing an excellent fade away ending. And it leaves the rest as the gravy that it is.
9 out of 10 stars
If you enjoyed a preview from The Head And Heart, check out David Starr's official website by clicking here & give him a like on Facebook by clicking here.