Hannah Ayrault – Me Right Now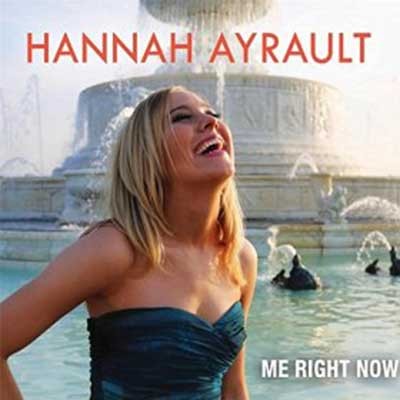 When pundits professional or otherwise write about the death of popular music, it's important to make distinctions about what they're talking about. The traditional music industry stands in ruins. The remnants still retrain some power and allure, but their grip slips more with each year. The passion to create and sing remains undimmed.
The days of big money might be long past, but young voices are still emerging from all walks of life in hopes that their voices might be heard above the din. Hannah Ayrault, a nineteen year old Detroit native, has the hallmarks of someone set for a long career. She has great promise as a writer, tremendous musical skills, a memorable voice, and drop dead beauty that makes her ridiculously easy to promote. Her debut EP Me Right Now isn't just a tasty pop confection – she backs up every commercially influenced decision with a proportionate amount of musical substance.
She divides the five tracks between ballad-style material and pure pop, but there are a few constants. The EP's melodic value is high. Each of the songs is infused with a grab bag of involving instrumental and vocal melodies.
She starts it off with the EP's title track and impressively manages to straddle a line between vulnerability and falling into stilted cliché. The lyrical confessions of uncertainty, loneliness, and feelings of loss are instant goo in the hands of lesser talents, but Ayrault puts them across to listeners in a naked, unadorned manner that will affect many.
Mine ruminates on young difficulties with love but percolates with such jauntiness that it sounds positively ebullient. Ayrault takes a slightly surprising turn with Stay combining her emotive pop skills with an ambling, mid-tempo jaunt. The opening trio of songs brings listeners brightness, introspection, and substantive musical entertainment in equal measure.
The EP's final two tracks take a sharper turn towards pure balladry. New York, I Love You is, as implied by the title, a musical love letter to the Big Apple. It's a relatively unexpected turn from her, but the performance is quite convincing. Authoritative drumming and strong vocal harmonies are added strengths of the song.
The album's finale, So Close So Far, has a beautifully aching, yearning vocal from Ayrault and a lush, beautifully integrated string section. Hannah Ayrault ends Me Right Now in a very different place than where it began – So Close So Far, like the song before it, has stately grandeur and remarkable musical maturity.
Those are among the handful of qualities helping to separate Ayrault from the pack. Unlike many of her peers, Ayrault has genuine songwriting chops to back up her attractive presentation and, even more importantly, she has something to say about herself and life experiences. Me Right Now has engaging vitality and Hannah Ayrault carries off its challenges with singular pluck and talent.
[soundcloud url="https://soundcloud.com/hannah-francis-ayrault/new-york-i-love-you" params="" width=" 100%" height="166″ iframe="true"/]
If you like what you hear, click here to buy Me Right Now. Also click here to like her on Facebook & here to follow her on Twitter.