Illuminaut – Self Titled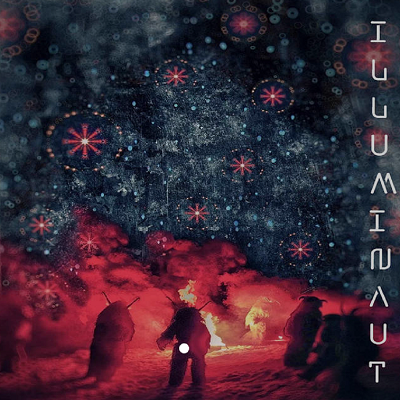 There's been an influx in interesting progressive talent coming out of the American and Canadian undergrounds in the past few years, but from where I sit, California's Illuminaut might be one of the best to debut in 2021. Their self-titled EP introduces us to a band that is arguably as indebted to the feverish, lumbering heavy rock of Soundgarden as it is the aesthetics of a progressive movement started by the likes of King Crimson and Pink Floyd, sans much of the indulgence those two acts became legendary for. What Illuminaut is seeking out in this record is validation for a new era in progressive alt-rock, and all things considered, I think they're able to secure exactly what they were looking for inside of four provocative new songs.
INSTAGRAM: https://www.instagram.com/Illuminauttheband/
This is an EP that feels more like an album in spots than it does the sample-sized record most releases of this type tend to be. "The Grey" wraps around us with immense power and pressurized sonic depth much as "Two Wolves" uses a pulsing rhythm to induce a feeling of claustrophobia and constant urgency; without using the tinny synthetic components a lot of other bands would, Illuminaut are pulling us down the rabbit hole with a lot of force. You can tell that this power duo came up on a lot of grunge, sludge, and stoner rock, but their priorities have less to do with making oceanic waves of distortion and center mostly on constructing a vibe using whatever tools they've got at their disposal.
"Dead Messenger" echoes Tool and Queens of the Stone Age in terms of its structure, but even at seven and a half minutes in total length, it doesn't feel like the most conceptual – nor the most overbearing – performance that Illuminaut could muster. Contrarily, there's something too efficient about the flow of this track to bear the excessive cosmetic attributes that come with making a conventionally progressive recording, and I for one like it. This isn't a band that wants to be known for following the model and tracing someone else's work; were this the case, I don't think they'd be putting in the kind of detail they do in this record just to establish themselves as their own brand of alternative music.
APPLE MUSIC: https://music.apple.com/us/album/illuminaut-ep/1593481569
Illuminaut is a welcomed introduction to its titular band, who presently have the most potential of any indie group I've encountered inside of their scene this year. There's undisputedly a left-field ambiance simmering beneath "The Grey" and "Native Alien," but it's framed with such an aggressive approach to tempo that we never have the chance to get lost in a drone. This pair is out to make heavy music feel engaging and intellectually stimulating again after years of relative silence on the underground front from OG sources of potent musicality, and compared to what some of their active influences are recording in 2022, Illuminaut already has one of the best standard-setting extended plays to drop in the last six months.