Jaye Madison – MIRЯOR: Framework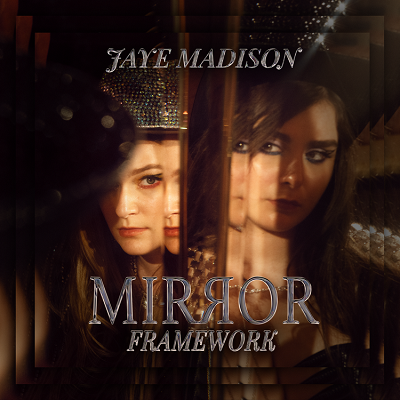 Jaye Madison isn't a guitar-centric indie act, but in their new record MIRЯOR: Framework, the string play featured in songs like "In the Grey" has a greater weight than any other instrumental component of the music does. There's a vibrancy and, conversely, a certain amount of somberness conveyed through the guitar parts in this material that defies either passive vocals ("Catch 22," "Shadow Man") or the strangely optimistic groove of the band ("Devil I Know," "In the Grey").
As much as I typically hate comparing modern works to those of the past, there's a very classic and yet experimental feel to MIRЯOR: Framework that had me feeling enamored with its style right off the bat, and I can see where other critics will find its four-song tracklist equally intriguing this spring.
Although the guitar speaks to the audience in a way that the singer never can capture with his voice exclusively, there's no instrumental focal point to the hook in "Shadow Man" or "Devil I Know," both of which rely more on textural and rhythmic contrast than they do fundamental elements in making a big impression on listeners.
I get the impression that a lot of this music was born of jam sessions spent with different players of varied backgrounds, mostly because of how versatile the aesthetics are despite having progressive energy in the tracklist itself. There's diversity between all of the decadence in this EP, which isn't something I've been able to say about a lot of country records lately.
There's an eccentric yin to every mainstream-friendly yang in "Catch 22" and "In the Grey," starting with the production style itself. Jaye Madison sounds polished and almost robotically precise in the other two songs on the EP, but these tracks are authenticated to us via a dirty, unkempt mix that flies the honky tonk flag higher than I thought this act could.
There are traces of the DIY country in this sound that I don't think I would have noticed without all of the contrast and conceptual juxtaposition in this record, and because of how accessible it is, I believe this project is going to get a lot more love from the critics this season. It's not surreal, but instead a work of postmodernity I could get used to.
Country music's underground has been impressing me like no other circuit on the planet this year, and if Jaye Madison continues to press their sound in the direction of the experimental, they're going to grow their following both at home and abroad a lot quicker than some of their contemporaries will.
There hasn't been a shortage of excitement in country/western since the slight return to streamlined efforts that 2023 has ushered forth, but as hard as the mainstream channels try to compete, efforts like MIRЯOR: Framework are just too difficult to keep up with. There are no barriers between narrative and target audience in this set of performances – only the limitations that come with playing music inside of a studio rather than on stage. In short, Jaye Madison is on their way to the top of their scene, and this record verifies it.