Jeremy Poland & Lantz Dale – Timeless Soul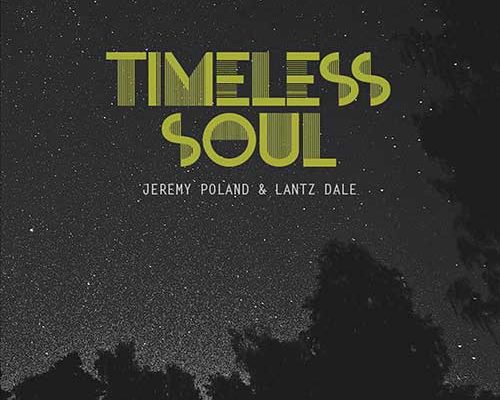 Timeless Soul, a release from the team of Jeremy Poland and Lantz Dale, marks the first time the team responsible for Southbound Heart, Poland's debut release, have brought their performing and songwriter talents together on the same release.
Dale, Poland's producer for that aforementioned debut, brings a more formally inclined edge to the musical proceedings that give shape to the deep oceans of passion powering Poland's artistic vision. The results of this collaboration, however, are not so simple we can merely boil them down to a juxtaposition of rawness versus technique.
The songwriting goes further than that with real peaks and valleys enhanced by note-perfect vocal harmonies and seamless transitions from one passage into the next. Timeless Soul is full of timeless qualities and subjects that few listeners won't be able to relate to. Moreover, it's presented in a vivid, visceral fashion that engages listeners from the outset.
All Yours Now carries itself with a lot of bounce and strong guitar work, even graced with a bit of flair during the instrumental breaks, but it has a pure pop heart reflected in its catchy chorus. Poland and Dale show a real penchant for making the most of those moments in songs and the opener is one of the best examples of that penchant in full bloom.
They strip things back some during In the Light and aim less for the big chorus, but the song unexpectedly expands in its second half and hits glittering melodic heights thanks to the guitar playing. It's this moment in the track that elevates it among the best on Timeless Soul.
All Over Again has some great pop characteristics like the opener, but there's real substance to this side of the duo's songwriting character instead of just trying to invoke glossy surfaces without depth.
The album's most dramatic track I'm a Wreck might take some listeners aback with its blunt stance, but it certainly wraps up the lyrics' brief message with considerable musical sweetness. The vocal harmonies, especially, are well recorded and perfectly match up.
Where Did It Go? has another of Timeless Soul's best choruses and a particularly bright sound in the acoustic guitar playing that keeps this track throwing off sparks from the outset. The vocal harmonies, once again, exert an enormous influence over the final result and help carry the song higher than it might otherwise be capable of climbing.
The finale, Timeless Soul, begins with a delicate musical melody created by piano and guitar before hushed vocals come in. The song gradually expands as it continues, fleshing out the melody with some tasteful guitar flourishes.
Poland and Dale give the release's title cut some appropriately significant lyrics that never sound too overwrought or earnest – the songwriting throughout Timeless Soul's seven songs communicates with listeners in a forthright, accessible fashion that's never self indulgent.
With this new release, Jeremy Poland and Lantz Dale prove that Southbound Heart is only a facet of what their combined creative energies can accomplish together.
9 out of 10 stars
If you enjoyed a preview from Timeless Soul, check out Jeremy's official website by clicking here, give him a like on Facebook by clicking here & a follow on Twitter by clicking here.