Josh Birdsong – Simple Geometry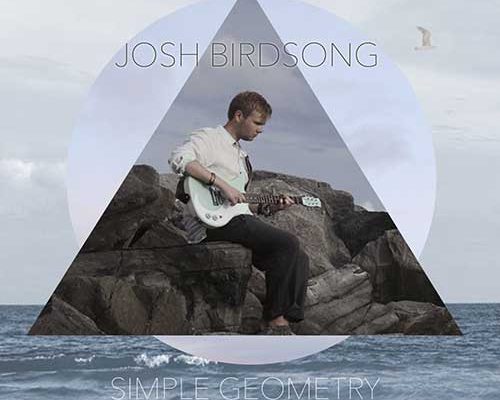 The release of Josh Birdsong's debut recording effort, a five song EP entitled Simple Geometry, introduces a singer/songwriter/guitarist so idiosyncratic that it's superficially hard to believe he plys his trade in Nashville as opposed to Los Angeles or New York City.
Birdsong's material brings modern pop and its sonic signatures together with traditionally minded singer/songwriter fare with stunning results. The heavy effects often applied to his guitar work and on the music as a whole during the album's production aren't merely ornamental. Instead, those sonic embellishments are every bit as key to the EP's success as the actual lyrical content and musical arrangements.
Simple Geometry is produced by Stephen Leiweke, a veteran of sessions with notable performers like Ingrid Michaelson and the band Jars of Clay, and he's done a fantastic job of capturing the unusual about Birdsong's work without ever losing sight of balance.
The first and second songs come from a similar place. The opener, Unspeakable, gives us an excellent introduction to the tone and tenor of his guitar playing. Birdsong is a compositional player – there's no lunging for guitar heroics here. Instead, Birdsong concentrates his playing on serving the song at large. There are subtle Brit-Pop influences running through this single and the intelligent lyrical content is often quite biting, but Birdsong creates additional layers of tension by never over-emphasizing those particularly pointed passages.
The latter of the two songs mentioned, Radio Waves, is much more overtly guided by guitar than the first song and Birdsong does a remarkable job of conveying the needed physicality in his six string work despite a production which, perhaps unintentionally, obscures the immediacy of instruments like the guitar.
Much of the production gloss is swept away, however, on the third song Drive. Subtle acoustic guitar runs beneath the relaxed drumming and an assortment of electric guitar fills chiseling out a top line melody. Birdsong's vocal is much more sedate and even-tempered than on the earlier tracks and seems ideally suited for the song's gentle push.
Why? sounds a lot like the first two songs, especially when you hear Birdsong's guitar again, but there's a lot more impetus to this song than the EP's first two numbers. Birdsong consistently attempts to bring the lyrics and musical sections in full accord with one another and perhaps succeeds on this song in a bigger and better way than ever before.
The finish for Simple Geometry comes with the strictly acoustic musings of You and I. While the song certainly walks over familiar ground, Birdsong fills the lyrical and musical content alike with the imprint of his own personality and that alone means he's adept at pouring old wine into new bottles. It ends Simple Geometry on a appropriately soft-pedaled note and reminds listeners that, despite whatever tinsel Birdsong dresses these songs in, nothing can diminish or alter the fact that these five songs are just well-written and sturdy tunes. Everything else is just gravy.
8 out of 10 stars.
[soundcloud url="https://soundcloud.com/josh-birdsong-1/unspeakable" params="" width=" 100%" height="166″ iframe="true"/]
If you enjoyed a preview of Josh Birdsong's Simple Geometry EP, give him a like on Facebook by clicking here & a follow on Twitter by clicking here.