Josh Phillips – New Beginnings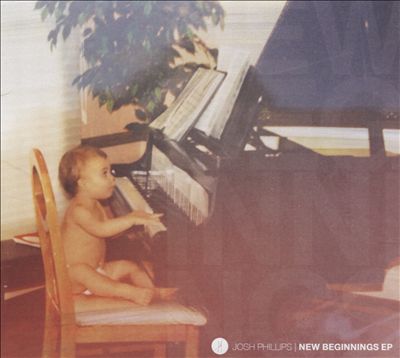 Nashville transplant, via the Windy City, Josh Phillips debuts with an impressive six song EP entitled New Beginnings. The famed novelist Tom Wolfe, author of The Bonfire of the Vanities, once said one of a young novelist's biggest mistakes is aiming to relate the story of their lives in a first novel and, too often as a result, leaving nothing left to write about in all-important second novels.
It's unlikely Phillips ever heard Tom Wolfe speak on the subject, but his release illustrates that it's already internalized within him. These are songs probing the micro rather than the macro – no rousing anthems of national pride, no solemn politically-themed protests. Phillips focuses on people's lives, what happens to them along the way and, moreover, delivers those narratives to his listeners crouched within concise, melodically appealing musical vehicles.
Completely Out of You is a clever opener with a propulsive rhythm section attack and sharp, energetic vocals. It spends its duration hinting at a higher gear it never finds and, as a result, some listeners might finish the track lamenting its squandered potential, but romps by with enough sincerity and rambunctiousness to redeem its minor drawbacks.
Steal Me Away slows things down and carries more lyrical and thematic weight than its predecessor. It introduces acoustic guitar into the songwriting for the first time in a pronounced way and the instrument remains a mainstay of the EP's sonic identity from here out.
A New Tomorrow relies heavily on acoustic guitar for its rhythmic foundation and, in concert with the usual suspects, the decision gives this track a solid base. Phillips' gifts for melody are considerable and this cut shows that talent off, but his vocals are essential for exploiting their possibilities.
Leave in Love doesn't tread any startling ground in terms of subject matter but, as elsewhere, what distinguishes Phillips most isn't his elastic definition of what constitutes music, but rather how deftly he pours old wine into bottles. It's an eloquent performance.
Inspired, however, is another matter entirely. This piano-based number affords Phillips with his most dramatic forum yet for exploring his vocal range. He responds with a profoundly soulful vocal turn matching the song's classic R&B ballad slant.
The EP's final song, No Sleep Tonight, is straight-up electrified country blues and notably contrasts the album's earlier songs. It never sounds out of place, however, thanks to Phillips' versatility in stretching signature elements of his style to fit other approaches. He sounds completely naturally and comfortable with an increasingly archaic idiom. It's a jolting conclusion to an EP that never purports to be the opening salvo of a meteoric rise, but instead aims at introductions.
Phillips might be content to have his voice heard, but there's a powerful imaginative force lurking beneath the sleek surfaces that will likely expand this musical vision considerably over the coming years. Make no mistake, New Beginnings is definitely the start of something. We'll hear much, much more from Josh Phillips.
9 out of 10 stars
If you like what you hear from Josh, make sure to like his Facebook page by clicking here & follow him on Twitter by clicking here.