Monique Angele – Answers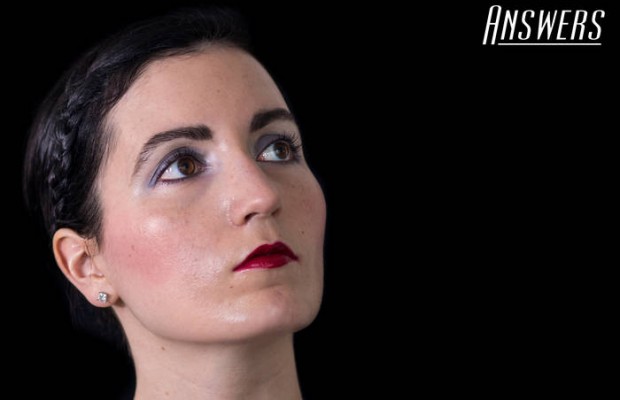 Monique Angele's EP Answers takes you on a completely intellectual, emotional, and physical quest. My first impressions of this album mainly include words such as "epic", "moving", and "intense". Angele is an incredibly gifted songwriter and musician, and her potential is definitely displayed in full in this amazing, yet short collection of carefully composed pieces of art.
Before hitting the play button, I honestly had no idea about what I should have expected. The EP art exhibits a portrait of her, neck-up on a pitch-black background. When I see this EP cover I think of this incredibly powerful woman who knows she doesn't owe the listeners anything; it's almost as if we owe her a genuine listen to this obviously passionate, emotional compilation of genuine music.
The Answers EP is simply powerful. The piano is bright, yet full and right in your face. The melodies and progressions are both delicate and driving, and go so well with Angele's chilling vocal ability. This EP has a perfect balance of peppy pop music, deeply emotional themes, and groovy dance breakdowns.
One of the main characteristics that differentiates this EP apart from other music is its depth. The layers on these tracks simply never end. The core of the piano and vocals are endlessly dressed with popping drum smacks, fat bass-guitar, and the intelligence of brilliant orchestral elements. When listening to this EP, you'll be met with a rollercoaster of emotions, an impeccable display of raw musical talent, and soaring vocals.
The EP begins with the title track, Answers. The track begins with a quick piano progression and a single vocal layer. The song progressively builds up into an uplifting anthem of hope, understanding, and companionship. The harmonies that are piled onto Angele's voice are absolutely amazing. This song could easily be on the soundtrack of some hypothetical, world-changing film.
The second track Mirrors starts out with a dark piano riff and a more chilling and powerful voice than the previous track. The track starts with a bang and ends with a slightly bigger and deeper bang.
After the intensity of the first two tracks, Angele slows things down in You Know. This song exclusively features Angele's piano ability, vocal power, and minimal orchestral and choral additions. It's the most simply composed song on the EP, but it still has such tremendous value. This song is very uplifting and it could inject hope right into anyone who gives it a listen. In the best way possible, this sounds like something right from the top hits of today.
The EP is concluded with very danceable and groovy track entitled Complete. The drums and guitars come in quite early and it adds such a fuller effect to the album that hadn't been too present in the songs before. This song is extremely catchy and has that type of chorus that becomes engraved in your head, but you become okay with it.
I give this album a 9/10 for good production quality, amazing songwriting and performance, and a fresh, new take on pop music. You simply can not miss out on this EP!
Click here to download Monique Angele's Answers EP for free on Bandcamp.
Make sure to like her on Facebook by clicking here & follow her on Twitter by clicking here.