That One Eyed Kid – Crash and Burn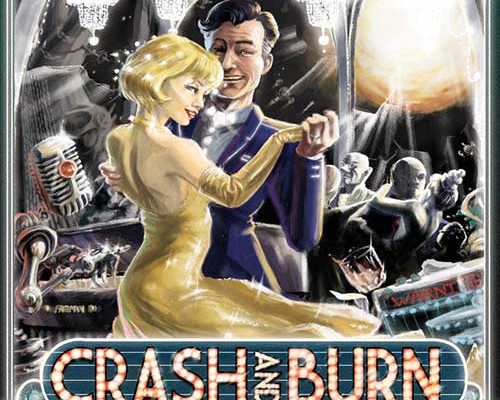 Boston based That One Eyed Kid, an one man band featuring singer/songwriter Josh Friedman, has released three EP's since he first debuted. The third EP and latest release, Crash and Burn, is a five song collection that shows Friedman's continued commitment to growing as a performer and songwriter as well as his willingness to continue providing a recognizable sound for the fans he's garnered thus far.
That One Eyed Kid has earned a lot of well deserved praise for his ability to use a form like electronic music the same way that an acoustic guitar playing songwriter might use their instrument. The sonic tapestry of these songs is never here for just pure adornment. Friedman's aim, instead, is to use this sound with every bit as much warm and humanity as we'd hear from any more traditional minded songwriters. This is the zenith of his efforts thus far.
Crash and Burn kicks off with Bright Big Red. It's arguably the best pop song on the EP for a number of reasons, but those who love it best can likely say the balanced musical treatment given to this composition and its melodic hooks are excellent. That One Eyed Kid has proven on earlier efforts that they know how to structure a release for maximum dramatic effect and the tradition carries on with this effort. Bright Big Red is an excellent first song for Crash and Burn.
It sets the stage nicely for the second track Burn Out Right. Some of the intelligence and wit at the heart of his songwriting comes through clearer here than elsewhere and his aims with this song are clearly a little loftier than other points on the EP. It's one of the critical musical points on Crash and Burn because it's obviously mandated with building on the promise of the first number. It succeeds by this standard of evaluation. Friedman's voice, two songs in, is the most remarkable element of the collection thus far. He has a pleasing combination of bell clarity, musicality, and emotive phrasing that serves these songs with great finesse.
He convincingly changes things up with the track Native Advertising. Friedman tackles a quasi-doo wop style here given a wholly unique modern cast. It has a rougher texture than those bygone efforts of yore, but the vocal strengths certainly recall that distinguishing feature about the style. It's more evidence, as well, of the surprising lyrical strengths accompanying Friedman's songs. He can simply write place holder lyrics and get away with it, electronic music is like most popular forms in the sense that mainstream music doesn't typically value lyrical content, but Friedman challenges listeners and himself with an unique style that does more than just hit its marks.
There are some occasionally raucous notes struck on the final track Rewind, but Friedman spends much of his effort on this song building it to be the conclusion that the EP needs. The effort bears fruit as this is one of the most physical songs on the release but, nevertheless, shows off the same intelligence that makes earlier cuts memorable.
That One Eyed Kid has raised his game considerably with the release of Crash and Burn. No matter if he decides another EP is the way to go on future releases or he tackles a full length album, the bar is much higher than before and he has the talent to clear it with room to spare.
If you enjoyed a preview from Crash and Burn, make sure to check out That One Eyed Kid's official website by clicking here. Give him a like on Facebook by clicking here & a follow on Twitter by clicking here.