Paul Nourigat – Complex Truths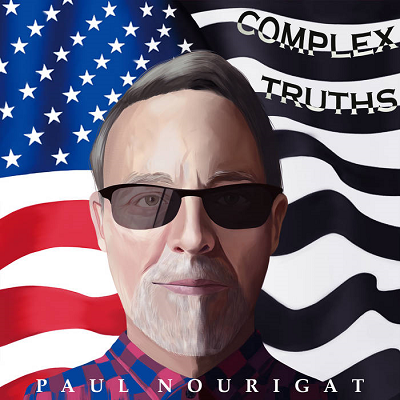 Paul Nourigat's Complex Truths are a brief collection of demos, but many acts/artists would be happy to release three songs packing the cumulative impact of this trio. Nourigat's songwriting never agitates for any particular cause beyond the eternal rights of man. It's clear in the first two demos that Nourigat has taken a long, hard look at modern American life, but global life in general, and sees a world gone wrong.
Many share his opinion. Even those that meet him halfway, if at all, will hear much on these songs that they can enjoy – if nothing else, the music is stellar. Nourigat has an exquisite ear for what each of these song's needs, his vision is already very specific despite the demo status of the material, and thrives in collaboration.
He's adopted an unusual approach for the demos. Nourigat has crowd-sourced, in essence, the musical backing for his release. Traditionalists may crinkle their noses and think it promises disjointed and/or half-realized work. He's culled individual musical parts from collaborators around the world and the results are remarkably cohesive for a remote recording. Nourigat, however, holds even these demos together through the sermon-like intensity of the lyrics in the first two tracks. The third song is much lighter fare in comparison, Nourigat arguably affords himself a more generous outlook there, but individual listeners will decide.
BANDCAMP: https://paulnourigat.bandcamp.com/album/demos-for-complex-truths-nov-1st-release
"Natural Stupidity" opens the album with Nourigat decrying the increasing presence of a global surveillance state and humanity's apparent acquiescence to such supervision. The music for this track and later numbers on Complex Truths embrace a rootsy vibe, for the most part, but you'll hear inklings of rock peeking through as well. He has an interesting delivery as a vocalist. It's emotive without ever being especially warm as Nourigat does an excellent job of focusing his spite through his phrasing without going overboard.
"Bad Cannot Be Good" has much more assertive music, the guitar most of all, and will likely rate as the EP's strongest moment. He's covering a different region of the lyrical territory he explored during the opener, but the same general spirit presides over the performance. There's an added dollop of vehemence, however, which many listeners will pick up on.
"These Old People" closes the EP on a completely different note. The texture of the music remains largely unchanged,  but, the lyric inspiration hails from a different source. It is Nourigat writing about society from a totally different angle. Attentive listeners can trace durable connections from the earlier songs to this closer.
Complex Truths provides listeners will a complex and layered listening experience despite its deceptive simplicity. Paul Nourigat has obviously harbored these talents for many years, but they've been unleashed upon the world now, and many listeners will deem him an important new musical voice, especially in such troubled times. He appears ready for more, his admirers are as well, and he's adding fans at an exponential rate that shows no signs of slowing.