Pistols At Dawn – Nocturnal Youth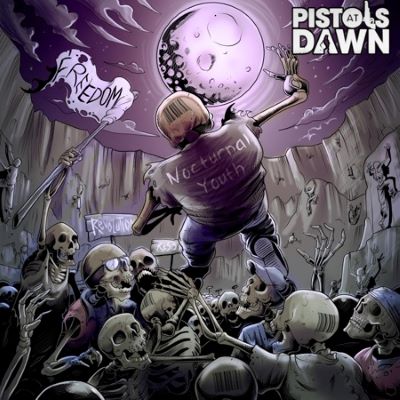 The recently released, Nocturnal Youth, from Atlanta based Hard Rockers, Pistols At Dawn, is a 4 song EP, that hits like a Falcons linebacker at times. The band combines sophisticated melodies, with metallic guitars, to create an aggressive, but accessible sound. Consisting of 5 members, PAD was formed 6 years ago, and most of the original lineup is still in the band, to this day. The band sadly lost a guitar player in 2018, the highly skilled, Mike Buffa. The band hasn't acknowledged any specific influences to note, but they wouldn't have been out of place, in the Early 2000's.
Their newest single is called, "Crown," and it's a short, and punchy piece of music, that also features PAD'S, trademark musicality. Chris Pierson is the Front Person for the band, and a former Reality Show finalist. This track, however, frames the guitar work as the cynosure. Devin White and Tommy Richardson, combine to give Pistols At Dawn their heaviest elements. The two seem perpetually engaged in a friendly duel of virtuosity, creating remarkable music in the process.
The rhythm section is also especially fierce on "Crown." Drummer, Adam Jaffe, and Bassist, Billy Sullivan, provide an appropriately dense foundation for the piece, with Jaffe showing tremendous power and restraint, simultaneously. Pistols At Dawn, are a highly congealed and functional unit, and each member is effectively highlighted. Pierson, while as previously mentioned, is a little lower than usual in the mix, here, still shows why he is one of the most competent and scene grabbing Vocalists in his genre. Everything comes together on "Crown," but that's not to overlook the scope and quality of the rest of the material on the record.
"Now Is The Time," is poised to be an anthem for whatever it's eventually attached to, and quite possibly, the band themselves. This one is tremendously structured and the delivery is equally as great. Of all of the songs on Nocturnal Youth, "Now Is The Time" is the most immediate and resonating. The more emotionally charged, "Voices" is fittingly a more vocally driven song, that is dripping with nu-metal fuel. "Gone Black" is something of an anchor track, that boasts a tremendous guitar solo, excellent drumming, and a tasty bridge.
Nocturnal Youth is genuinely without any weaknesses. Pistols At Dawn is playing their cards close to their chest, by offering us just enough to wet our appetites. What an appetizer it is though, as this record truly recaptures the energy of a bygone era, but somehow doesn't feel like opportunistic nostalgia. For Rock fans of all subgenres, there is something here, for everyone. While Pistols At Dawn may not bow to those with a crown, they may be destined to wear one of their own.
If you enjoyed a sneak peak at Pistols At Dawn's Nocturnal Youth, check out thee official website for the band by clicking here. Give them a like on Facebook by clicking here. Click here for the many options to download or stream Nocturnal Youth!