Sins Of The Loose Buttons – AM Arcade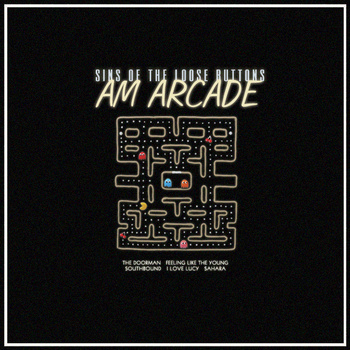 Sins Of The Loose Buttons is fairly new to me as I just discovered them at the 2013 Northside Festival. After seeing them put on a great set at Muchmore's, I just had to download their debut EP AM Arcade. The EP opens up with The Door Man which features some great drumming at the outset which leads into some nice vocals.
The second track is Feeling Like The Young which has a much more relaxed sound compared to the opener. It starts off but slowly picks up as the track goes along. Southbound is up next & it happens to be my second favorite track on the EP with its catchy guitar riffs & rough vocals at the start.
Now we get to my favorite track on the EP, I Love Lucy which was my favorite song performed at the aforementioned set. This mid-tempo song has a great feel to it as it showcases the different elements & talents of all 4 members of the band. To be honest, this song alone is what motivated me to write a review in the first place as it is just that good.
The EP ends with Sahara, arguably the most mellow song of the bunch. It was a great choice for a closer as it neatly ties the whole EP together yet leaving the listeners wanting to hear more. AM Arcade is definitely worth a listen so make sure to do so.
Tracklist:
The Doorman
Feeling Like The Young
Southbound
I Love Lucy
Sahara
Pick up your copy of the new EP by clicking here.