Stranger Friends – Self Titled EP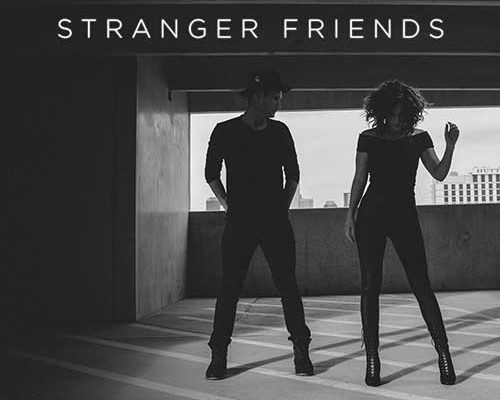 Stranger Friends released their self-titled debut EP on October 7th, 2017, and it's a breath of fresh country air, as most will probably agree once they get wind of what they're bringing to the table. Jamie Floyd grew up singing with her parents in West-Palm Beach, FLA. She co-wrote the title track to Ashley Monroe's Grammy-nominated album, The Blade.
Her original songs appear in the TV series "Nashville" and other film placings. John Martin from Oklahoma City played football for Baylor University while continuing to write songs. One of those compositions, "Live Your Dreams," became a theme song for the Big 12 Conference.
This five track EP comes before the release of a full-length movie soundtrack coming in 2018, which is a Burt Reynolds movie entitled Dog Years, and that means more to come right around the corner. But that is enough about how they got here.
They kick off with Country Song to get the vibes flowing, and flow very well they do on this fabulous opener. Mind anyone, I wouldn't just expect to come flying onto the scene this way, so the seven years they've been at it also worth nothing. Having said that, there is no better way to open than with a song like this to establish your future.
Mistakes are everywhere you look anymore, but not with the-end result on this EP as it goes from one track to the next with Sacred Garden getting its rightful place alongside the illustrious opener. And what a pretty little sing along-treat it really is. It's fun-loving from the start with its baritone guitar riff being its first point of greatness. This is so evenly mixed with everything around it, lacing it together like silk, it's amazing.
This is an experience to behold within more of the same, but a particularly stand out achievement. It stands up there with the songs by Robert Plant and Alison Krouse.
It seems there is no room for error as I Ain't Dead rears its beautiful head. But I do have a complaint about something, and that is how short this track plays when, surely, they could've added another go around or even two, of the breaks in this brooding song. It doesn't take a point away but it comes close, because it's not quite enough to seal the deal when the opportunity was perfect. If not for that it would be the best track on the album. But you get the benefit of being uplifted by the next track November & June which pleases in every which way it can, with yet another well-written and recorded tune.
The only fault of an EP when it's this good is there aren't enough tracks to go around to last till the next release unless it is a quick follow-up. It's just very hard not to mention that full-length albums are in order when the artists are turning in this quality of material and production. It makes listening to something over and over, take more time to do. And closing with Don't Get Back Up is as easy as opening with it. Something gets lost in the minimalism of it all. And all you do is want more than you're getting. The more Stranger Friends the better. That's all then some.
[soundcloud url="https://soundcloud.com/strangerfriendsband/i-aint-dead" params="" width=" 100%" height="166″ iframe="true"/]
If you enjoyed a preview from the soon to be released self-titled debut EP by Stranger Friends, give them a like on Facebook by clicking here.