Swirl – Ditch Day Soundtrack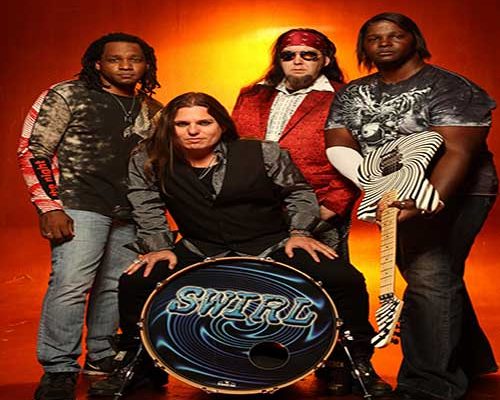 Swirl has been coming perilously close to widespread critical and commercial success for a number of years now and their recent appearance on the soundtrack for the film Ditch Day may be just the final push they need to catapult to a higher level than ever before.
The Southern California headquartered four piece features Alfred Ramirez on vocals, Duane "DT" Jones on guitar, Shane Carlson on bass/backing vocals, and Brian "Bam Bam" Jones on drums. They combine a confident, authoritative hard rock swagger with heavy guitars and a flexible, yet eternally steady, rhythm section that gives them the enormous bottom end they need to attack with real gravitas.
Their self titled 2016 release provides the three songs included on the Ditch Day soundtrack and they are well-chosen cuts accentuating the band's strength and illustrating their nearly boundless potential. Get in with this today – Swirl are ready to push through any remaining obstacles in their path and ascend to the next level of success.
The first of the three tracks, Spell, revisits some themes familiar to the genre, but Swirl expresses themselves musically and lyrically with individuality that gives them their own unique flavor. Ramirez commands much of the listener's attention with his focused vocal and weathered pipes that never betray any lack of range. His quality phrasing gives the singing an unexpectedly emotive aspect that many hard rock/metal songs of this ilk lack. The instrumental attack is superb – Brian Jones and Carlson are a formidable rhythm section and the latter auspiciously opens the song with some hard-charging bass.
They offer up some more variations on a theme with the song Rise Up. The exhortative quality of this track doesn't even smack of the cheap pandering more commercially oriented acts might go in for – again, the individuality of the band's songwriting spins these familiar tropes in a new direction. DT Jones stands apart here, as he does in the first song, thanks to his ability to offer up some flash lead breaks that still retain some tastefulness. Their talent for crafting a memorable chorus comes across, as well, and this one packs a tremendous amount of punch.
The final contribution the movie soundtrack, We Are Alive, touches on the same call-to-arms qualities heard in Rise Up, but the band's message is much more personal and about self-empowerment than political or grounded in headlines. This is hard rock and metal of a particular stripe and a master class on how it should be done – with no limits shown and an emphasis on musical excellence without ever immersing the song in hollow virtuosity.
Instead, Swirl's performance on We Are Alive bristles with unbridled freedom and will win over all but the most cynical of listeners. This is music that will engage listeners on a personal level and also physically invigorate them. The movie Ditch Day benefits from featuring these songs, as well, and Swirl deserve all the resulting exposure that comes their way from taking part.
[soundcloud url="https://soundcloud.com/swirl-dt/spell" params="" width=" 100%" height="166″ iframe="true"/]
If you enjoyed a preview from the Ditch Day soundtrack, check out Swirl's official website by clicking here, give them a like on Facebook by clicking here & a follow on Twitter by clicking here.
Photo courtesy of Neil Zlozower