The Magnifiers – For The People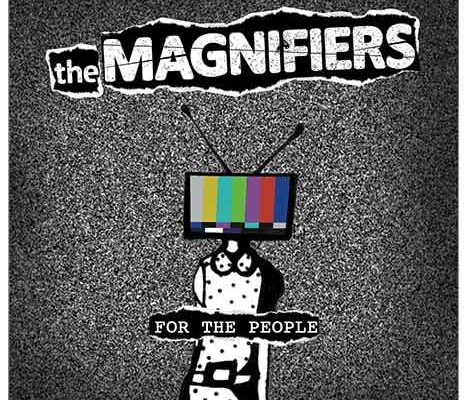 New York City, rather than Chicago, has been a traditional hub for this sort of music. We may have to rethink that following the release of punk rockers The Magnifiers second EP For The People. The band certainly deserves recognition for the astonishing fact they produce such memorable work despite not a single member of the four being over seventeen years old as well as being a group of siblings, but they deserve even more notice for the sharply dispatched musicianship and intelligent songwriting delivered by each of the EP's four songs.
Those talents have garnered them considerable notice in their Midwestern environs, but The Magnifiers have already branched out and are receiving increasing national notice. This is a band that has fresh, undeniable personal qualities, but they also carry on the traditions of the form with new twists and a wholehearted embrace of the classic punk rock sound. There's a little bit to like here for any rock fan, but there's far more.
Two of the most noticeable elements setting this EP apart are its humor and strong musical virtues. The first song Mostly Harmless shows off those qualities in an intensely likable way. The song picks listeners up from the first and carries them away on a kinetic wave of energy, but that verve is well complemented by lyrics that are clearly bright, but never take themselves too seriously.
The band's guitarists, seventeen year old lead player Elliot Dombrowski and his fourteen year old sister Eden, have a strong bond in their playing that comes through on this track more cleanly than others and ten year old drummer Everett shows he's up to the task of handling this physically demanding material.
TV Hat switches gears a little bit as the band shows a little more growl and darkness in their songwriting, but even their moments of light social criticism are tempered by a snarky sense of humor. Producer Vanessa Silberman does an excellent job capturing the band's sound and their rougher edges are appealingly framed on this song.
She also does a superb job pushing the virtues of Anarchy Sucks. In some ways, this is similarly to the first song with a little additional emphasis on the guitar, but the way she places Eden's voice front and center highlights some of the EP's best songwriting. The irony of a young punk rock band thumbing their nose at the genre's longtime rallying call will make longtime punk fans smile and the musical arrangement will appeal to anyone with a thirst for no frills, to the point rock music.
The EP's last song gives the release a very distinct curtain. Transfiguration comes from a much different place than the preceding tunes and the band's skills branching out to an acoustic guitar setting, complete with memorable piano playing, makes this standout on an EP filled with stand out moments. For The People will draw you in and make you believe again. Watch this space, because The Magnifiers are going nowhere but up from here.
9 out of 10 stars
[soundcloud url="https://soundcloud.com/the-magnifiers/4-the-magnifiers-transfiguration-mstr" params="" width=" 100%" height="166″ iframe="true"/]
If you enjoyed a preview of For The People, check out The Magnifiers official website by clicking here, give them a like on Facebook by clicking here & a follow on Twitter by clicking here.