Tim & Puma Mimi Interview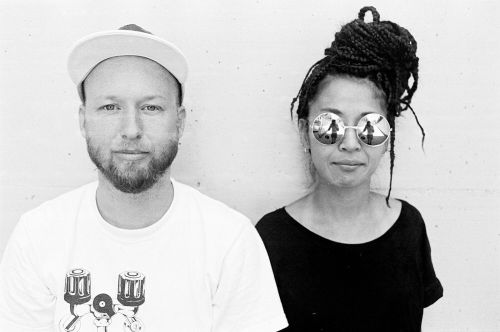 Photo Credit: Moritz Bichler

Tim of the upbeat and enjoyably quirky Swiss and Japanese electronic pop duo Tim & Puma Mimi takes some time out of his busy schedule to update us on the duo's latest creations, including the just released album Der Die Das, crazy-fun animated video for Dupi Dough from the award-winning short film Ivan's Need, and lots more.
IndieMusicReview:  It's so rare nowadays to find an act that that truly has its own sound, but you both really pulled it off. There's a bit of everything in your music: some electro, some dancehall, hip-hop, j-pop, house, acid, and a pinch of punk – yet in the end, it's so unique and so you. Was this a natural evolution, a trial and error kind of thing, or do you just hear things differently? 
Tim: I hear through the eyes of a Japanese woman. I see a different culture; so playful, so strange. This culture also has very strict written and unwritten rules, like Switzerland. To be creative means to contradict some rules of a culture; to find or build new stuff. That's what we've done for more than 10 years.  Meeting old classmates and trying to explain what we do is impossible. We are happy to use the creative parts of our brain most of the time.
IndieMusicReview:  Do you deliberately reference all these genres or does this happen subconsciously?

Tim:  We try to keep our ears open for new stuff from everywhere. In each room we have a different music player: In the kitchen we listen to new stuff on Spotify for washing dishes, in the bathroom I installed my old tape player and listen to my '90s tape collection, and in the living room is the turntable with a growing collection.  But in the end, while producing music, we don't analyze, we just play what we like.  It's like creating your own drug…
IndieMusicReview:  So what were some key records that appeared on your playlists while you were writing Der Die Das? 
Tim:  You really want to hear this? Haha – I'll copy my Spotify algorithm here: Jain, A-WA, Odd Beholder, Card on Spokes, Chet Faker, Sinkane, Django Django, Mexican Institut of Sound, De La Soul, Caribou, Yello, Tame Impala, A Tribe called Quest, The 2 Bears, Amadou & Mariam, Framix, Electric Guest, Perrey and Kingsley, The Frightners, Wayne Smith, Harry Nilsson, Die Antwoord, None of Them… and and and…
IndieMusicReview:  Now that the process of album-creation is wrapped up – what is this collection of songs about? Have some themes you weren't aware of during the production come into focus now?
Tim:  It's about Ying and Yang. The right amount of happiness in dark times. Sunshine in the nightclub.  Stressed in a timeless life.
IndieMusicReview:  This question goes on a bit of a tangent, but do you know of any other Swiss/Japanese duos?

Tim:  Doing music? In real life we know many, but musically? Pitchtuner from Berlin (Well, they are German/Japanese).
IndieMusicReview:  Have you ever performed live in Japan? If so, how was that?
Tim:  Haha, yes, our first show in Japan was at the Shibuya Party Temple 'Womb'. This club was announced in my tourist guide as a must-visit because of the biggest disco ball in all of Asia. We played our live set, but it was more of a DJ venue. So we broke the rules already with our first gig in Tokyo.
IndieMusicReview:  This is the first time you have collaborators on your records.  Can you spill some details about this?
Tim:  With the Guestbook track in the end, we wanted to find new ways to collaborate with other musicians. We were a bit tired of this remix or producer thing, but also not willing to do sampling.  We wanted to do something more personal but still easy-going. So I recorded a basic track, actual'y a kickdrum and a bassline, and asked 5 friends if they could send me any recording that they think would fit to it.
In the end I had a nearly 10 mini tracks with recordings from all over the world. It's maybe one of my favourites of the album. And we're very happy to put so many important people into one track, including Boris Blank (Yello), Seelenluft, Töbi Tobler (I listened his album non-stop when I was a little boy.), Benni Bo (DJ from Hamburg), and Toshi TKNG (guitarist from Tokyo).
IndieMusicReview:  In closing, you have an odd, but interesting way of using synthesizers.  Ummm, are the cucumbers you use as synth triggers organic?

Tim:  Actually, sometimes we've asked for rotten food at the supermarket because we needed dozens of them for a workshop.  We just do music with it all; it's not for eating.
[soundcloud url="https://soundcloud.com/mouthwateringrecords/sets/tim-puma-mimi-der-die-das" params="" width=" 100%" height="166″ iframe="true"/]
Find out more about Tim & Puma Mimi by checking out their official site by clicking here. Make sure to give them a like on Facebook by clicking here. Lastly check them out on Bandcamp by clicking here & on Spotify by clicking here.