Amber Arcades 06-08-17 (Live @ Knitting Factory)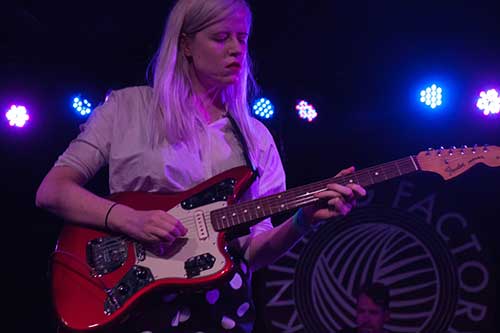 Photo courtesy of William Ruben Helms, click here to visit his website!
I started my 2017 Northside Festival journey by heading to one of my favorite Brooklyn venues, Knitting Factory as I enjoy the good vibe that seems to always be in the air. Two words describe what lead me here first, Amber Arcades, the solo recording project for Annelotte de Graff.
Besides the fact I usually gravitate my schedule towards artists not from around NYC during the festival, I found myself really enjoying her sound when I came across her while planning my schedule.
One of the first songs I ever heard was Right Now, an upbeat song with a really good chorus from her 2016 debut album Fading Lines. So I was extremely happy she opened the set with it as I found it to be the perfect opener.
My personal highlight was This Time, a beautiful melodic song with a perfectly done slow tempo that really helped the fantastic lyrics stand out. I also felt she made an excellent choice in ending the set with Turning Light, another track from Fading Lines.
Overall I must say I was extremely impressed by not only the sound & vocals of Annelotte de Graff but her relaxing stage presence. She had a way of clearly owning it naturally without trying to hard to do so like a lot of others tend to do. I really hope to catch her play again in NYC real soon!
Setlist:
Right Now
Come With Me
This Time
Fading Lines
Which Will
Apophenia
Can't Say That We Tried
It Changes
Turning Light
Check out Amber Arcades official website by clicking here. While you are it, give her a like on Facebook by clicking here & a follow on Twitter by clicking here.