Apollo Run 10-15-13 (Live @ Spike Hill)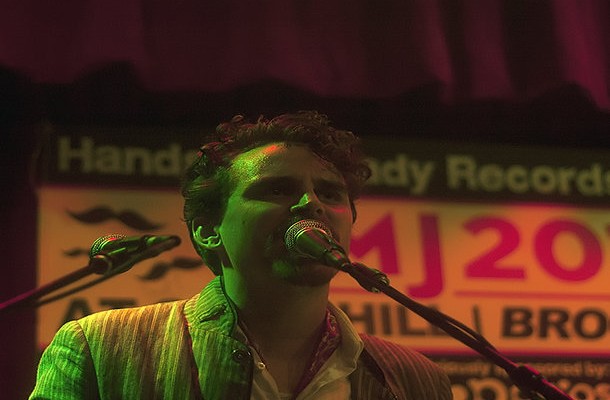 The excitement was in the air as the first day of CMJ was officially here. I knew going into the event that one way or another, I would end up at the Handsome Lady Records showcase at Spike Hill to see Apollo Run as it had been way too long since I had last seen them.
They opened the set with a instrumental intro leading into Myography which instantly reminded me why I love this band! Next up was Sirens. I remember how it was one of the standout tracks when I originally reviewed their most recent album Here Be Dragons Vol III. On this night, their performance once again perfectly brought out the emotional roller coaster that makes this a personal favorite of ours here at Indie Music Review!
One of the stand out moments of the set was the entire final song appropriately titled All In Good Time which caught me by surprise when the band put down their instruments & came into the crowd to sing & rock out a cappella! The entire crowd ate it up as John, Jeff & Graham sang, clapped their hands & stomped their feet out. This was a perfect end to yet another amazing set which I have come to expect & receive every time I see them.
Apollo Run is a true can't miss experience live whether it is the amazing vocals of lead singer John McGrew, Jeff Kerestes on bass looking like he is having more fun than anyone in the world who plays an instrument or the rock out nature of Graham Fisk on the drums.
I can't wait for their next round of shows which will come as part of a 4 show residency at Rockwood Music Hall (2 in Novemeber & 2 in December). When these shows do happen, I won't be surprised to hear Bending The Light which I officially requested since it is one of my favorites from Here Be Dragons Vol III!
Thank you Apollo Run for the kick ass start to my CMJ 2013!
Setlist:
Intro
Myography
Sirens
Wide Eyes
City Lights
Chasing Rabbits
All In Good Time!