Apollo Run 11-01-13 (Live @ Rockwood Music Hall)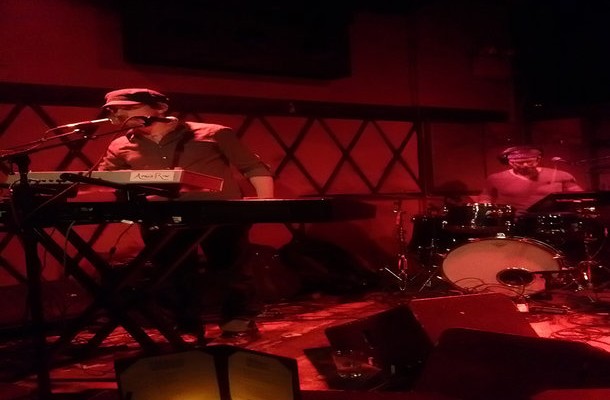 Friday night was the beginning of the much anticipated 4 date residency at Rockwood Music Hall for our friends Apollo Run. There is so much to say about this show as it featured so many fun surprises that led everyone in the crowd to having a great time!
They opened the set with the untitled intro song which I feel is an awesome way to start off based on seeing it at previous shows. This led straight into Devil In Disguise which had amazing energy to it that really got the crowd going.
Now came one of my personal highlights of the night as they performed Bending The Light. I love all of their songs but something about this song always makes me want to dance around and sing along as it is irresistibly catchy. I was so happy that they included the beautiful instrumental arrangement as that really makes the song for me.
The beautiful tune Sirens was the next song in the set which was flawlessly performed once again. The vocals are haunting and the instrumental arrangement makes it stand out as one of their best tracks ever done on album as well as live.
Out of nowhere the guys jump off stage to do a couple of acoustic songs since, according to lead singer John McGrew they like to "smell the crowd." The two acoustic songs were Desire and Annie Mae which the crowd absolutely loved by dancing & having the time of their life. I think it's a great way to really get close to the fans. I can't recall too many acts who jump in with the crowd to perform acoustically.
Now it was time for some Apollo Run history as they played Autumn Song live for the very first time.  I thought it was done pretty well but I would probably need to hear it again to really judge how I feel about it.  They followed it up with Chasing Rabbits which sounded really strong & on point.
Last but not least it was time for one last jump into the crowd moment as they closed with the boisterous All In Good Time. The guys have so much fun playing this song, it would be impossible to not be swept up by the energy. I absolutely love that the two most recent times that I have seen them they ended it with this song as I can't think of a better closing number.
I plan on attending every show of this residency as I am looking forward to what songs they add to the set along with the shenanigans (good ones of course!) that will occur. I highly recommended you make it out to all 3 remaining shows (okay if you can only make 1 that is fine, but really you should make all 3!) as you will not regret it!
Setlist:
Untitled Intro Song
Devil In Disguise
Bending The Light
Sirens
Desire (Acoustic)
Annie Mae (Acoustic)
Autumn Song
Chasing Rabbits
All In Good Time