Carolyn's CMJ 2014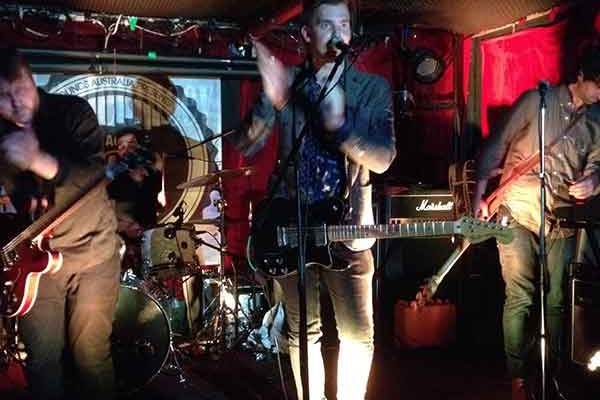 I started my CMJ 2014 by heading to The Delancey to see Goodbyemotel, a band I really have liked for quite sometime. It had been way too long since I had seen them.  I was under the impression they were playing upstairs but that wasn't the case as they were downstairs. Good thing I was only running a few minutes late at best. I was expecting to see their 4D set but it was interesting to see them without it. I enjoyed the set so much that I knew I would check them out again during the festival.
Next up, I headed to Pianos to get some networking done and check out a few bands. I ran into an interesting band called Pinact who came over from Glasgow, Scotland. The first thing that came to mind when I heard them playing was how they reminded me of Nirvana not only musically but appearance wise. I definitely enjoyed their set & am glad to have found it was their first ever show in the States. I was excited to say I was a part of this moment for them!
On the 4th day of CMJ I decided to head to Pianos once again and check out  the highly anticipated performance by Mxthr. The amount of people in the crowd showed how much a must see event it was! However before they played, I caught a few earlier acts on the bill.
One of those bands was Waltz whose set I caught the end of. I walked in & saw a bunch of half naked men on stage, it was quite the sight to see. Next up was Shilpa Ray whose set featured a harmonium, the first time I have ever heard or seen one. I really enjoyed their set as it was very powerful not only instrumentally but vocally.
The only thing I would say was that the set & night overall felt very tense & not due to anything that Shilpa Ray was doing. The issues rose from the sound engineer who came off unprofessional in rushing everyone during their sets because their main focus was on Mothxr. She was so frustrated, she took off her shirt & let it rip vocally for the rest of the set. Despite the tenseness, they put on a great set.
Now it was the main event of the evening as Mothxr hit the stage. David kept suggesting I check them out as not only would it be a great show to network at, I would really like their music. I must say he was 100% right  as I loved them! Their energy was off the charts throughout the very upbeat set. The only complaint I had was the crowd in the room as I refuse to believe that occupancy rules were not broken as it was way overcrowded for such a small space. It was so bad that my friend who was to meet me at the show ended up stuck on line outside as he could not get in.
Since my friend did not get to see them, I felt bad making him come out for nothing. So even though I was in immense pain, I headed with him to Brooklyn to once again see Goodbyemotel. I am glad that I did as I loved their set especially Set It Off, Mona Lisa & Ocean Wide Open which all sounded amazing! Their set would make even the stiffest person just want to dance! I am proud to say I made them a new fan as my friend highly enjoyed them!
Leading up to CMJ 2014, all I kept hearing from David was that I had to end my marathon experience by being at The Delancey for the end to the Aussie BBQ as it is the best & only way to end things. It has been his ritual since he started covering the event a few years ago. So I already knew this is where I would end up at regardless of who was playing. Now the fact it turned out that Goodbyemotel was the finale was the best gift I could imagine,
I am excited to say that they ended the marathon by performing their 4D experience which is always off the charts awesome! The set featured a few songs I didn't recognize from other EPs along with ones that I had grown to love that will be on their new album IF which is due out tomorrow.
Overall I wish I could have been everywhere for CMJ even though I know it is not possible. It did not help that more setbacks happened to David & I that I care to think about. However the artists I got to see & discover helped ease the setback pain. Next year though will be the biggest & best ever from us, you can bank on it!
As a special bonus, check out the full length 4D set by Goodbyemotel from their Aussie BBQ finale set at The Delancey!