CHVRCHES 06-15-14 (Live @ McCarren Park)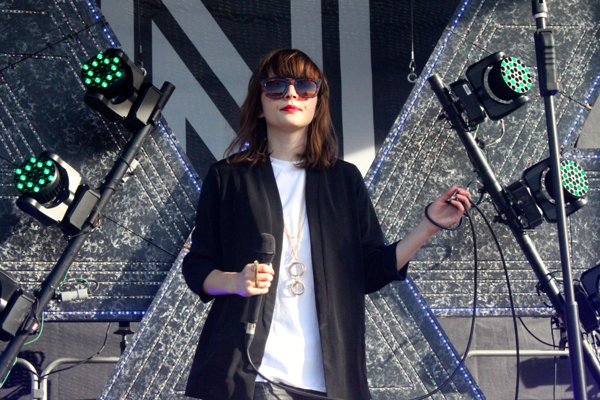 When I planned my schedule for this festival I ran into CHVRCHES a well known band from Scotland whose name I had seen many times before but never had the chance to listen to a lot of their songs. After doing so, I can understand how they have nearly 400,000 likes on Facebook & fan chapters all over the world!
As you could imagine, McCarren Park was packed to the brim to see them so much to the point I had to engage in some championship level maneuvering just to get a decent spot to view what turned out to be a flat out amazing set.
They opened up with a fabulous performance of  We Sink whose chorus I loved & had stuck in my head long after the show was over. After this song, I could not help but be mesmerized at how full of energy they were to go along with ridiculous catchy beats & great vocals.
I want to give a shout to the crowd who was freaking awesome & insane from start to finish as they sang, danced & jumped to every second of the show. Plus who does not enjoy random beach balls & frisbees being tossed around!
My favorite overall moment of the set was when they played Recover which I was hoping would be played. I was so caught up in the moment, I got my dancing groobve on. None of my friends were there so if I looked dorky, they would never know. Actually even if I did who cares, I was rocking out to CHVRCHES!
CHVRCHES made a huge impression on me & they will for you as well if you see them live!
Setlist:
We Sink
Lies
Lungs
Gun
Night Sky
Strong Head
Recover
Tether
Under The Tide
The Mother We Share