David Cook 07-10-17 (Live @ Knitting Factory)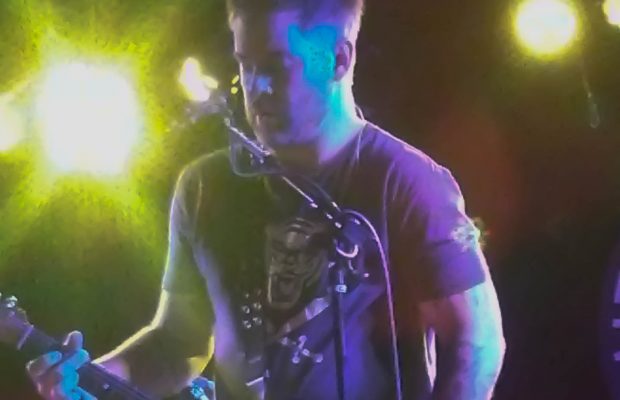 I have been a huge fan of David Cook for 9 years now. I also have seen him perform live countless times as NYC always seems to get love from him when new material comes out. Admittedly it had been some time since I last saw him perform, so when I saw he was playing in Brooklyn & at one of my favorite venues, Knitting Factoy, I knew nothing would stop me from seeing him again.
One thing I have never said after one of his shows was I did not have a great time. This is the case due to besides his amazing performance, the energy is usually off the charts whenever he plays NYC due to a pretty dedicated fan base in the region. I pretty much see the same faces mixed in with new fans & this night was no different.
The set opened with Kiss and Tell, a fast pace rock song off of his album Digital Vein which I definitely enjoyed. I thought it was cool that there were LED screens on stage that flashed something different with every song.
Next up we had Heroes off of his self-titled album. I love whenever this song is played live as the crowd always sings the chorus back to David which is always a treat to see. To complete the great opening trifecta was Laying Me Low, another track from Digital Vein.
I was so absolutely overjoyed to hear the next song of the set which was Criminals as going into the show, it was one of the songs I really wanted to see him perform. I am obsessed with the opening chords of the song.
At this point of the show, things really started to get interesting as earlier in the set David had noticed the disco ball hanging inside the room. Thankfully the venue obliged to his request to have it turned on several times throughout the set which included a disco instrumental!
I was very happy to hear Broken Windows which is another favorite of mine off of Digital Vein. The whole album is just ear porn but let me not digress…..
David being the sweet soul he is decided to try his hand at matchmaking by encouraging the single audience members to make eye contact, exchange Tinder profiles and make plans after the show. This was all before he jumped into playing his ballad I'm Gonna Love You, the perfect song to make such connections. Maybe we will hear about his technique working on future marriage how did you meet segments????
We also had the privilege of hearing 2 cover songs during the set which both came off amazingly. The first was The Chain by Fleetwood Mac & the second one was Another Day In Paradise by Phil Collins.
While at the show, I learned a couple of cool facts that I did not previously know. It turns out the lead single Light On from his self titled album was written by Brian Howes & the late Chris Cornell. David also shared the fact that the original demo was sung by Chris so the song has taken on a new meaning to him. He dedicated his performance of the song to Chris in a very touching moment.
The last two songs of the 14 song set were newer ones with the first being Ghost Magnetic, an unreleased track co-written by Ryan Starr. I absolutely loved the slower tempo of this song which had a very haunting quality to it that perfectly matched its title.
The finale was Gimmie Heartbreak which happens to be his latest single. I loved this song the moment I heard it. The song features a strong blues influenced sound that he pulls off extremely well. The chorus is very infectious & will stay stuck in your head for days. When I first heard thins song, I could not contain the excitement for the yet to be released EP.
Overall this was an amazing show by David & his band which consisted of Mike Ball, Sam Huff & Jeff Scott. This was my first time seeing them as David's backing band & I must say they all did a great job. You could definitely feel the chemistry & love between everyone on stage. I along with everyone in the audience also enjoyed David's stage banter which was hilarious throughout along with the random occurrences throughout the night that kept things interesting.
I definitely look forward to seeing David Cook perform again as soon as possible. If you have a chance to catch him on his current tour that is going on until September, I suggest you do as you will be in for a great experience.
In the meantime, make sure to check out David Cook's PledgeMusic campaign where you can pre-order his new EP as well as receive exclusive perks. Click here for all the details!
Setlist:
Kiss and Tell
Heroes
Laying Me Low
Criminals
Paperheart
Broken Windows
I'm Gonna Love You
The Chain (Fleetwood Mac)
Declaration
Come Back To Me
Another Day In Paradise (Phil Collins)
Light On
Ghost Magnetic
Gimme Heartbreak