Green Label Live Showcase 06-12-15 (Live @ McCarren Park)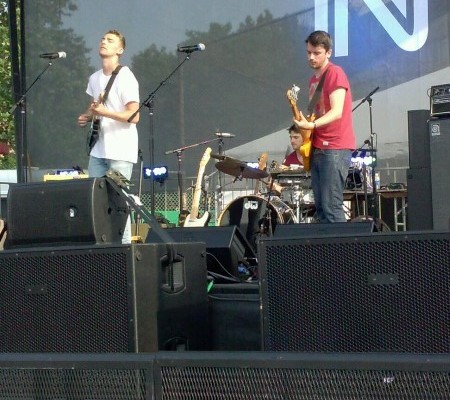 While examining the Northside 2015 schedule, a band from Belgium named St. Grandson caught my attention. From what little I heard online. I knew that they were a band I had to see so I made it a priority to head to McCarren Park on day 2 to catch them play the Green Label Live Showcase.
I head over to McCarren Park to find out they switched set times with Sevdaliza. I decided to stick around and check them out which turned out to not be a bad thing as I found their set intriguing. They described their songs as being of the minimalist type which I felt accurately described their sound. The vocals & instrumentals were very good throughout which left me open to checking them out again in the future.
Next up was who I came to see, St. Grandson. I caught a little portion of them practicing before the showcase started so I knew they would be sounding real good in their set & I was 100% right. I loved the very chill & mellow vibe that their set produced as it gave off this positive feeling that resonated with the entire crowd. Their vocals & instrument work was flawless throughout. I really hope they come back to the states soon as I will definitely go see them again!