Hill Town 05-25-18 (Live @ The Chippo Hotel)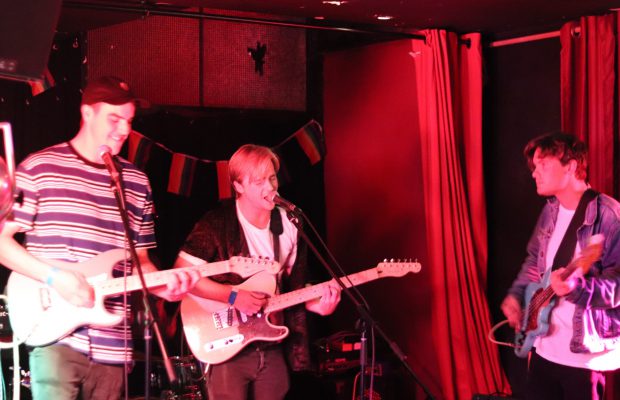 Hill Town – Great party sound, cool vibes all around
Gig date: 25th May 2018
Venue: The Chippo Hotel, Chippendale, Sydney
Country of origin: Southern Beaches of Sydney
Members: Nick, Josh and Lewis (Zane Phillips filled in on bass last night since the original bassist recently left the band)
Support or headline: Support for The Kava Kings (Sydney)
Good crowd/bad crowd: Crowd was pretty laid back at the start of their set, but towards the end of it everyone was joining in with singing and dancing. During the last song the band members jumped into the crowd to get more involved and to end their set on a high note. Awesome move boys!
Number of times seen band: 1
Crowd participation: As I said above, the crowd were subdued at the start, but they definitely were into it by the end of their set. Heaps of girls were up the front doing some interesting looking dance which was way too funny to see..
Genre: Indie Rock
Rating: 7/10 guitars
My review:
Some great songs
I love the song 'Bonnie and Clyde' definitely is my favourite song of yours.
All of the songs would be great party songs
In some parts of songs you sang really well so everyone could hear you, but in other parts you were quiet, so maybe sing a little louder for the whole song next time.. (just a tip J )
Set List:
You and Me
Bonnie and Clyde (video I took)
Cheap Alcohol
Young
I just need
Way
I don't mind
Hill Town is an Indie-Rock inspired band from the southern beaches of Sydney. After playing a few gigs in and around the 'shire', things have started to kickoff and look really promising for this 3-piece. The boys are pumped to see what the rest of the year and the future throws at them.
Hill Town released their first single 'Young' (in August 2017) which has a very infectious vibe and obviously relates to many people on the music scene around Sydney. They have just recorded 2 new tracks which will be out in few months, so keep an eye (and ear) out for their new music and upcoming gig's, as you definitely do NOT want to miss an act like HILL TOWN!!  Good party tracks.
Check out more from The Music Producer by clicking here.