Holychild 06-13-14 (Live @ Knitting Factory)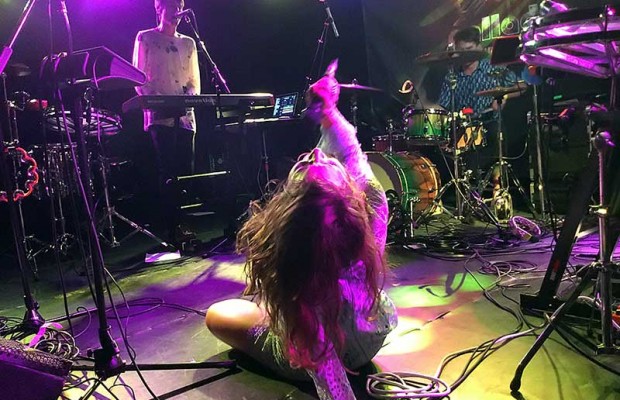 To end my second day of Northside coverage, I decided to head over to the Knitting Factory as besides having many fond memories at the venue, I heard about a can't miss late show featuring Holychild, a band I newly discovered.
Holychild's set was a mixture of songs from their debut EP Mindspeak along with new material that I hope will be coming out in the near future. The self described "brat pop" act led by Liz Nistico and Louie Diller opened up with the highly contagious Diamonds On The Rebound. Fellow IMR writer David could not get this song out of his head as I caught him humming it at various times through the rest of the festival.
My personal favorite was the finale Happy With Me as it had this infectious beat & energy that could not be denied. What a great way to close out the set for sure!
I have to admit this was one of the most energized sets I have ever seen as Liz was a complete fireball of energy from start to finish using every single inch of the stage she literally could to dance & sing her heart out. The jam packed room was filled with many fans of the band as they were dancing & singing along throughout.
I enjoyed every song as I had a blast at this show with David who was thrilled to have shown up for this show like I suggested especially since the show he was going to cover instead got cancelled. What can I say, it was a Holychild devine moment for him & it should be for you when they come to your town!
Setlist:
Diamonds On The Rebound
Boy Name
Every Time I Fall
Pretend Believe
Tell Me How It Is
Playboy Girl
Mindspeak
Bombada
Happy With Me